On 8 January 1989, a British Midlands plane crashed on its way from London to Belfast, killing 47 of its 126 passengers. 29 of those who died were from Northern Ireland.
RTÉ's London correspondent Leo Enright reported the following day. The report shows the wreckage of the plane on the side of the M1 motorway near Kegworth in Leicestershire close to East Midlands Airport, where the plane had been diverted following engine problems. Firemen and rescuers are working on the scene, which Transport Secretary Paul Channon describes as "an appalling sight".
UK Prime Minister Margaret Thatcher and Northern Ireland Secretary Tom King have visited the crash site. Investigators are due to arrive, possibly including some from Ireland, as the plane was leased by Guinness Peat Aviation of Shannon.
An RTÉ News report broadcast on 9 January 1989. The reporter is Leo Enright.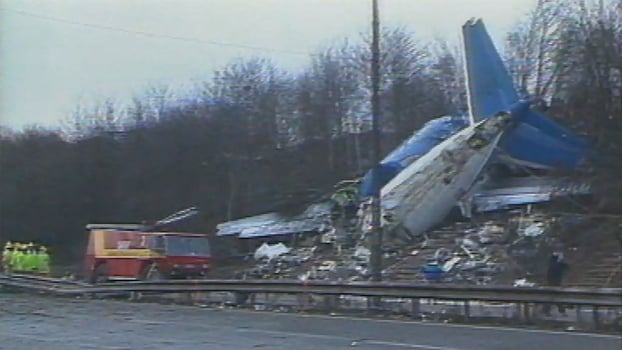 British Midlands plane crash site, Leicestershire (1989)