RTÉ Archives was sorry to learn of the passing of RTÉ broadcaster Colm Murray following a long illness. He was 61.
Born in Moate, Co. Westmeath in 1952, Colm Murray studied Arts at NUI Galway and worked as a teacher before becoming a radio continuity announcer in RTÉ in 1978. While in radio, he presented 'Hospitals' Requests'. He joined the RTÉ newsroom in 1983 and moved into Six One Sport in 1989. As a sports commentator, he specialised in horse-racing, and was given a 'Contribution to the Industry Award' by Horse Racing Ireland in 2010.
In 2010 he was diagnosed with motor neurone disease. His condition was the subject of the 2012 RTÉ1 documentary 'MND: The Inside Track' and he won a 'People of the Year' award later in 2012 for his efforts to find a cure.
Colm is survived by his wife, Anne, daughters Kate and Patricia and his sister, Mary.
In a frank and humorous conversation, Colm Murray talks to Seán O'Rourke about his life and career at RTÉ. In the hour-long interview, recorded in front of a live audience in the Aviva Stadium in January 2012, Colm reveals his inner thoughts about his life and current battle with illness. The interview is packed with colourful anecdotes, revealing insights and some serious reflection.
Broadcast on RTÉ Radio 1 on the 2nd of January 2012.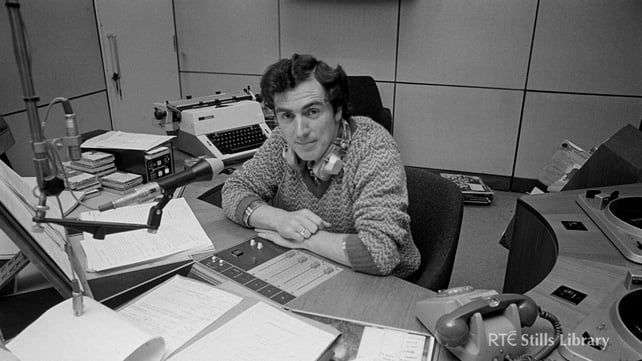 Pictured here in radio studio in September 1979. Photographer: Joe St. Leger. © RTÉ Archives 2284/020
Listen to the full interview on RTÉ Player.