The Eurovision Song Contest 1970 was held on 21 March in Amsterdam and marked the first win for Ireland.
This news report from 23 March 1970 sees 18 year old Dana (Rosemary Brown) returning home having won the Eurovision Song Contest for Ireland for the first time. Dana sings the winning song 'All Kinds of Everything' from the foot of the plane.
During a press conference Dana tells RTÉ reporter Barry Linnane that there has been no time to think what to do next except rest. Dana also says she will continue to live in the Bogside in Derry.
At Ballykelly Airfield in Derry, Dana is greeted by crowds and a school girl band plays 'All Kinds of Everything'.
A RTÉ News report from 23 March, 1970.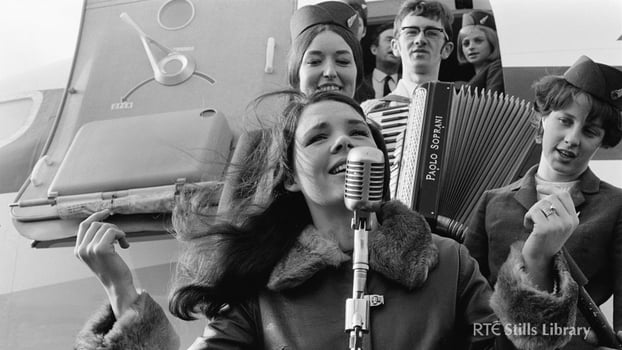 Dana at Dublin Airport, 1970. Photographer: Roy Bedell
Ireland is now the most successful country in the Eurovision Song Contest having won 1st prize seven times.