It's not often we get to escape our four kids and spend a couple of nights away in a hotel, but when the opportunity arose to visit the lovely Dunadry Hotel & Gardens for an action-packed weekend in Antrim, we dropped the nappies and ran.
With the four hundred bags, cuddly toys and kitchen sink packed, we ditched them at their grandparents and headed off for a peaceful two hour and 17 minutes drive of no 'are we there yet?', no "can I have a snack" and no "dad, I have to do a poo" …. the latter has often been past tense too.
Location
Situated in the village of Dunadry, Dunadry Hotel & Gardens is a family run business on the banks of Six Mile River, only 30 minutes from Belfast and a 45-minute drive from Giant's Causeway – Northern Ireland's only UNESCO World Heritage Site – making it an ideal base for Game of Thrones.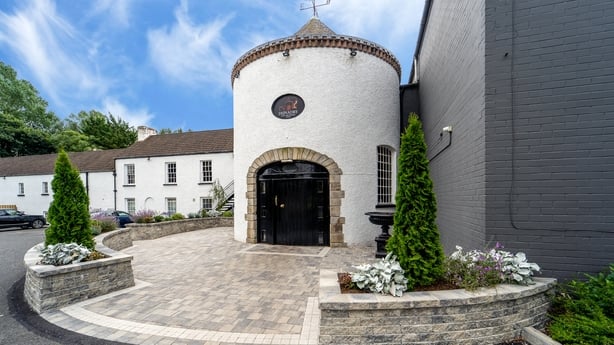 It's a hotel steeped in history dating back to the 1600's when it housed the High Kings of Ireland, to its days as a medieval paper-and-linen mill and lots of historical elements are still prevalent in the hotel today.
Coats of arms hang in the circular entrance hall. The lobby contains a fireplace salvaged from Antrim Castle and a pre-WW1 Steinway piano waiting invitingly for someone to play. Just off the lobby, giant wooden beetlings taken from the original Linen Mill hold up the impressive winding staircase which wraps itself around the Copper Bar (the name coming from a model of the Bushmills Distillery process displayed behind the bar).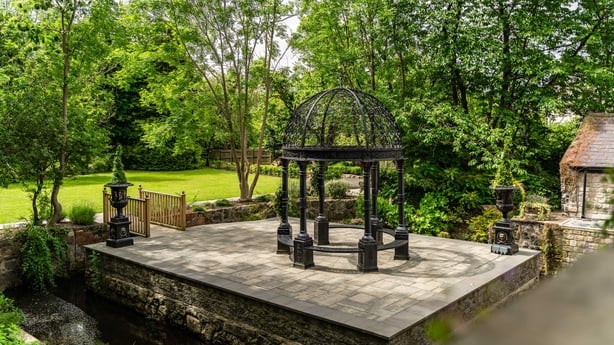 As a nod to the present, and the not too distant past, glass cases on the white plaster walls display signed champagne corks from the weddings that have been celebrated there. A lovely family touch.
Outside, a large central garden forms the heart of the hotel where the Tree of Peace and Unity stands, a historic symbol of unity in Northern Ireland.
Accommodation
The bedrooms, most of which overlook the central garden or an inner courtyard, have all been freshly renovated. Our room, which offered views and access to the private courtyard, was big, bright, cosy and quiet with a large bed, a rainfall shower, designer toiletries and all the regular mod cons.
The WiFi in the room was somewhat patchy but we can have no complaints about how comfortable it was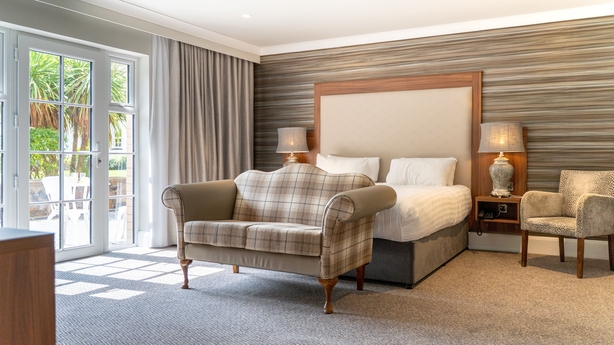 Food
On both nights we ate at the award-winning Mill Race Restaurant and the food was excellent, really excellent. The restaurant has a well curated seasonal menu and between the prawns, chickpea salad, haddock and tortellini on the first night, to the mussels, goats cheese tart, slow braised beef and crème brulée on the second night, we were blown away by how good everything was. The service was also impeccable.
Breakfast in comparison was a little on the disappointing side with very few options apart from your standard breakfast fry, some cereal and a selection of pastries, fruit and yogurts.
Other dining options include the Garden Lounge - which overlooks the Tree of Peace and Unity - and the Copper Bar, both of which serve bar food ranging from halloumi and chickpea salad to their signature steak sandwich served with smoked applewood cheese and tobacco onions.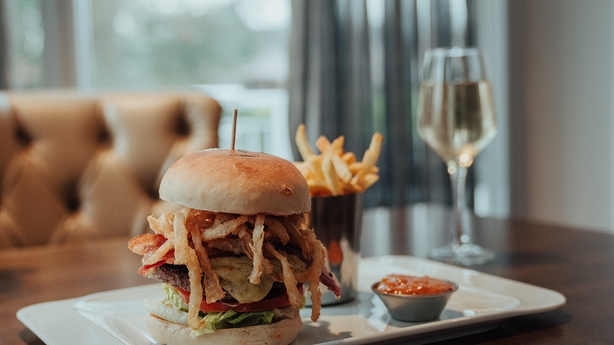 Activities
With an abundance of things to see and do on our doorstep, we had the luxury of having an action packed day organised for us, so we started the morning early visiting some of Antrim's top attractions.
The Gobbins
First up was The Gobbins, a spectacular cliff path on the Antrim coastline, carved from the rock at the turn of the 20th century.
Located in Islandmagee and only a 40 minute drive from Dunadry, The Gobbins is a network of walkways, caves and bridges that hug the dramatic basalt cliff face.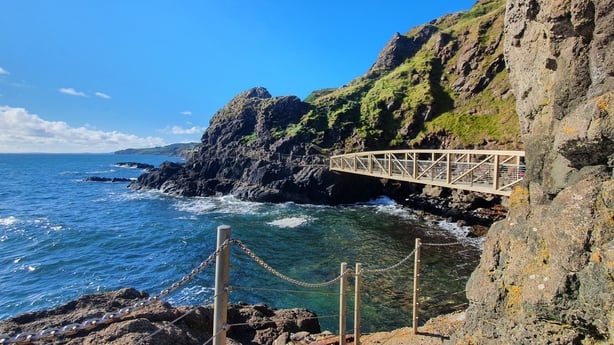 Conceived by the Victorian railway engineer Berkeley Deane Wise and billed as having "no parallel in Europe as a marine cliff walk", the path really puts you at one with nature and the elements. As waves crash below you, you make your way along narrow paths, up stairways carved into the cliff face and through tunnels hidden under the sea.
On a clear day, like we had, you can see the coast of Scotland in the distance and if you keep an eye out you might see the seals, dolphins and porpoises that hunt in the waters.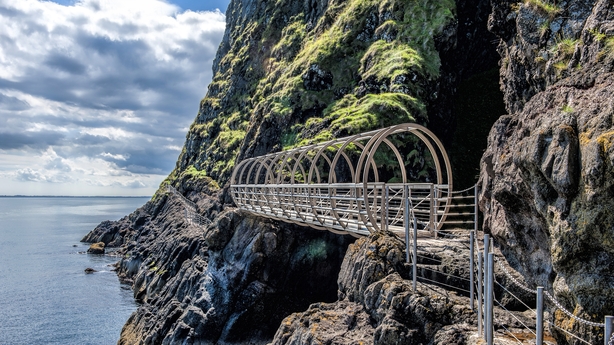 Each walk is led by a local guide and it takes around 2.5 hours to complete. It's an easy to moderate walk but isn't buggy friendly and although there isn't an age limit for children, admittance is based on a height restriction of over 4 foot.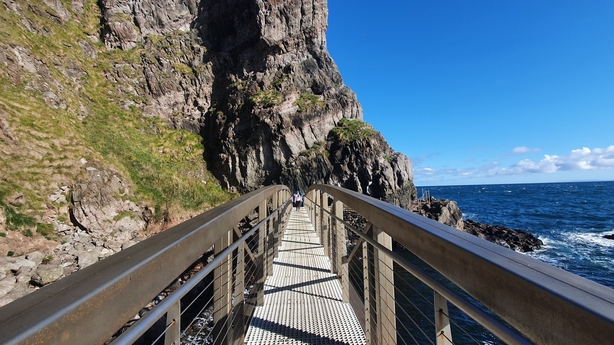 It's a remarkable engineering achievement and a brilliant experience and I'd highly recommend checking it out.
Afternoon Tea at Whitehead Railway Museum
Now I'll be honest, apart from Thomas & Friends, and possibly Chugginton, trains have never been on my radar but traditional afternoon tea on a static vintage railway carriage at Whitehead Railway Museum was quite the treat. Pardon the pun.
Only a 10 minute drive from Islandmagee, the five gallery museum allows you to rub shoulders with the 'giants of steam'. You can step on the footplate of a 140 year old engine, get on board a number of carriages from the Railway Preservation Society of Ireland's collection and see their restoration workshops, where the historic trains are brought back to life.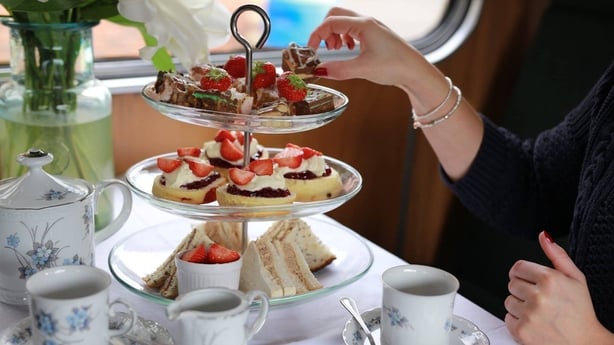 For our afternoon tea we were transported back to the 1950's to an authentic dining carriage for delicious sandwiches, treats, fragrant tea and elegant surroundings reminiscent of the post-war era. While my sweet tooth and Dad bod had a field day, it was the nostalgia of years gone by, accentuated by the incredible interiors, lighting, seating and beautiful panelling that really made it special.
It was decadent, it was delicious and It was relaxing...in perfect contrast to the beautiful Gobbins walk and I'd highly recommend you choo-choose it (i'll get my coat).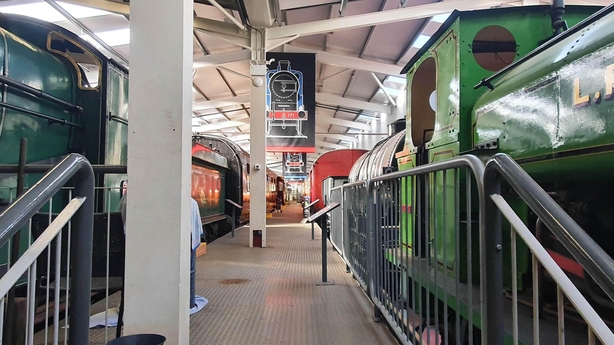 With bellies full, we did a walking tour of the museum led by an exceptional guide and got to learn about all the various steam engines housed there. We got to experience what life on one of the Royal Carriages was like and I even got to sit on the royal 'throne'... I wasn't to know it wouldn't flush.
Brilliant fun and something for all the family to enjoy regardless of your interest in trains.
Downtime
With so many things to do in Antrim, Dunadry Hotel & Gardens acts as the perfect gateway to the rest of Northern Ireland, whether you want to explore the Causeway Coast or the nearby locations from Game of Thrones.
But if downtime and relaxation is more your thing, the hotel also has an indoor heated pool, thermal areas, a fully equipped gym and beautiful outdoor spaces to sit back and enjoy.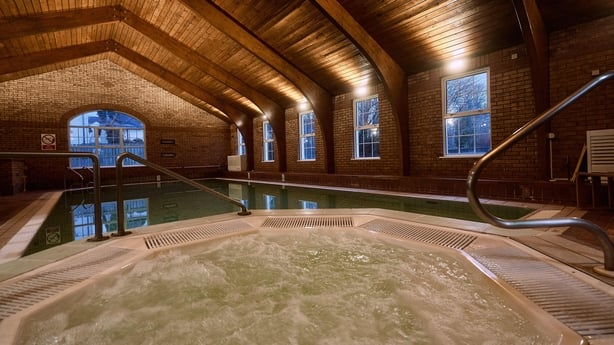 We thoroughly enjoyed our stay in Dunadry. It was lovely being able to relax sans kids with not a single 'no he did it' fight to break up and the very friendly staff made us feel so welcome. A big shout out too to the musicians who played in the Copper Bar on the first night - from guitars, banjos and fiddles, to violins, ukuleles and mandolins, it was brilliant entertainment and very special to witness such unbelievable talent.
We only had one full day In Antrim so we only scraped the surface but with the Giant's Causeway, the Carrick-a-Rede Rope Bridge and Bushmills Distillery still on our to-do list, we're already planning a trip back.
Who knows, we may even bring the kids…
DD
I was lucky enough to be invited as a guest of Dunadry Hotel & Gardens for two nights, with one evening meal, on a complimentary basis. The Gobbins and Whitehead Railway Museum experience were also provided on a complimentary basis.
Accommodation: Dunadry Hotel & Gardens
Activities:The Gobbins Cliff Path, Whitehead Railway Museum
Other hotels in the area include:
Dunsilly Hotel
Hilton Belfast Templepatrick Golf & Country Club
Galgorm
I have reviewed a number of family-orientated stays including Ballyhoura, Doonbeg, Athlone, Monaghan, Limerick Greenway, Cork, Ennis & Doolin, Lough Eske Castle, Faithlegg and Cabra Castle.
For more information on the many hidden gems that Northern Ireland has to offer visit discovernorthernireland.com/
---
For more reviews, tips and parental anecdotes follow me on:
| Facebook | Instagram | e: digitaldad@rte.ie |