I often look at the clock when it's nearing my children's bedtime like I'm one number away from winning the lotto. Yes, I adore them, of course I do, but parenting is exhausting and continuously finding ways to occupy and entertain kids - especially during the school holidays - is always a challenge.
Thankfully, Ballyhoura Country, situated at the crossroads of Munster on the borders of Limerick, Cork and Tipperary, came to our rescue over the Easter break.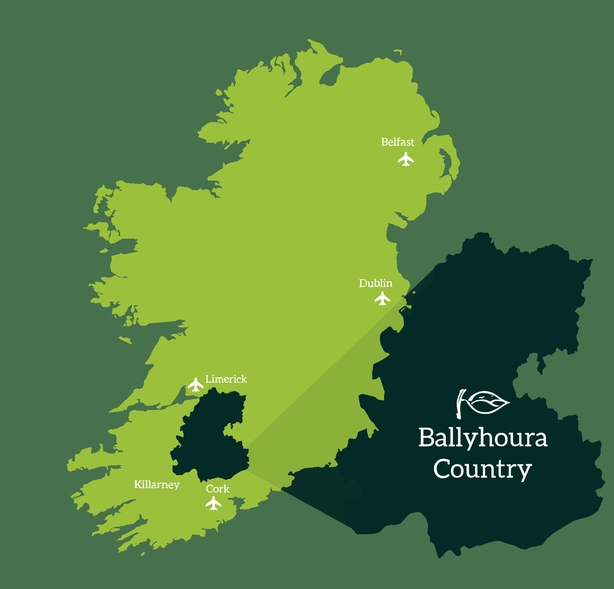 Ballyhoura is an area of green unspoiled landscape consisting of woodlands, mountains, parks, lakes, heritage sites and a huge variety of outdoor activities. Our home for two nights was the very family-friendly four-star Charleville Park Hotel, just a stone throw away from most activities.
We had a large interconnecting family room with three single beds, one double bed and a cot for our youngest Gremlin, Jasper. Part of the Só Hotel group, and similar to their sister hotel the Athlone Springs where we stayed last year, the Charleville Park Hotel really know how to make families feel welcome.
There were treats for the boys, some treats for mum and dad, and a big soft teddy bear for Jasper - a perfect start to our adrenaline filled few days ahead.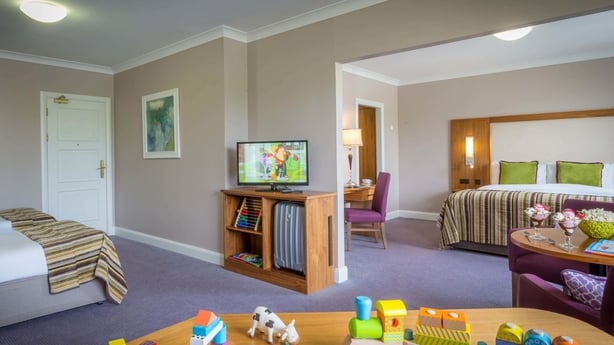 First up for myself and Freddie (10) was off-road cycling in Ballyhoura Mountain Bike Trails which are nestled in the beautiful Ballyhoura mountains and only 20 minutes from Charleville.
The 98Km of purpose built trails is the most extensive bike trail network of its kind in Ireland and range from a moderate 6km loop to the demanding Castlepook loop which is over 50km in length. You can bring your own bike or rent one there and showers and changing facilities are provided.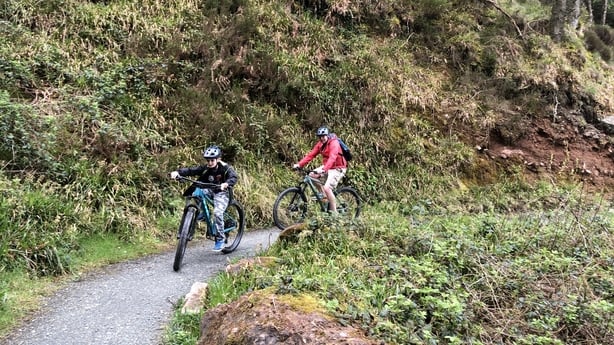 I hadn't done proper off-road cycling before so I wasn't entirely sure what to expect, and I won't lie, the uphill forest road climbs are tough but when you get to the top it's so worth it.
The tight, twisty tracks lead you down a roller coaster of ups and downs, tight turns, boardwalks, bridges, technical rocky sections and breathtaking views. It was brilliant fun and you can take the trails at a speed suited to your current skill set… in my case, middle-aged slug pace.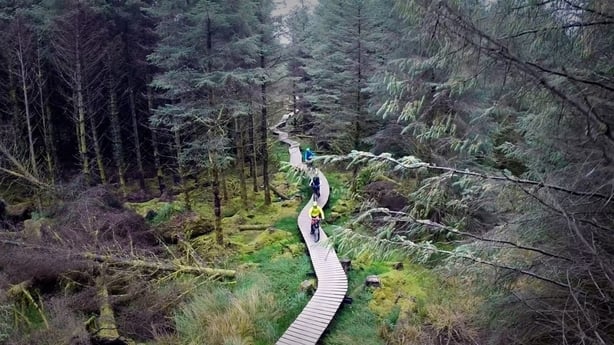 While we quenched our thirst for (snail) speed, Mrs DD and the 3 younger boys explored the walking trails while keeping an ear out for the squeals of excitement (and fear) as we whizzed by. I'd highly recommend it.
That evening, we took a dip in the hotel pool followed by dinner in the bar and then went back to our room to polish off some of our treats and watch a movie. The boys lasted about 30 minutes before their snores took over. Result.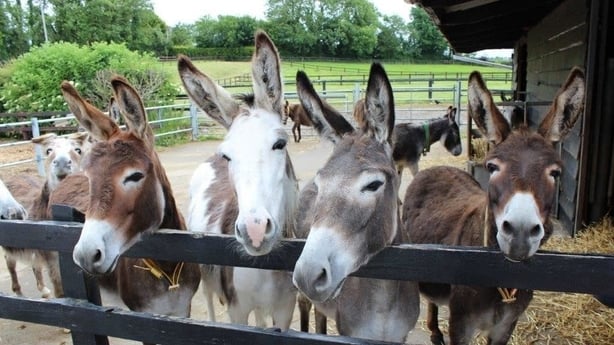 The next morning we headed to the Donkey Sanctuary Ireland to meet, greet and feed some of the neglected and abandoned donkeys from across Ireland who are now being cared for by the lovely staff and this wonderful charity.
Admission is free but donations are welcome. The farm is nestled in the beautiful rolling hillsides, outside Liscarroll village, and is home to 150 donkeys and mules. It would have been 149 donkeys if Jackson (5) had gotten his way but it was a toss up between the donkey or Mrs DD in the front seat and herself won the vote, eventually.
With Jasper making donkey noises for the rest of the morning, we headed to Ballyhass Lakes Adventure Centre for an afternoon fix of ziplining, climbing, archery, ice cream eating and all round good fun. If there's one place you want to bring your kids for excitement, adventure, chaos and challenges, this is it.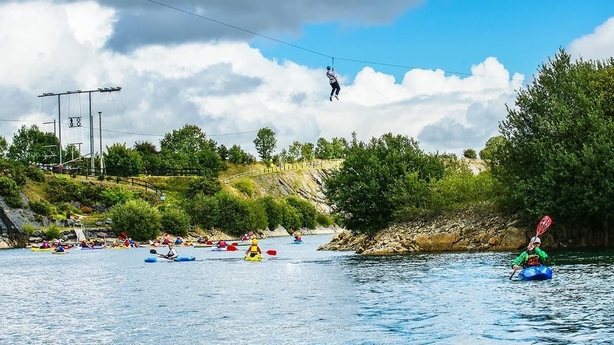 Ballyhass Lakes offers over 20 instructor-led outdoor activities ranging from kayaking, rock climbing, zip lining and high rope courses, to axe throwing, archery, wakeboarding and their newest addition, a floating inflatable wipeout course with climbing walls, balance logs, trampolines, 3 slides and lots more.
Needless to say our boys absolutely loved it and were shattered by the end of it.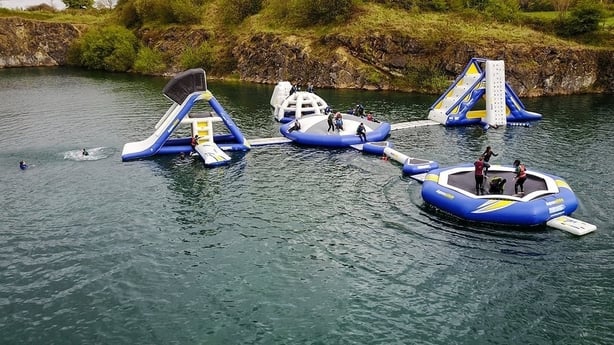 They lasted a full 15-minutes after dinner that night, and following a swim and breakfast the next morning we checked-out and headed to beautiful Lough Gur for playground and fairy trail fun before making our journey home.
Ballyhoura Country has so much to see, so much to do, and so much to experience. We could easily have spent another couple of days there.
There's something for everybody, whether its taking in the 450 km of waymarked walks and loops, or partaking in other adrenaline inducing activities such as horse riding, clay bird shooting, paragliding or kayaking.
It's a perfect place to discover rural Ireland and an even better way to tire out those pesky kids!
Be sure to check it out.
DD
Location: Ballyhoura Country
Accommodation: Charleville Park Hotel
Activities: Ballyhoura Mountain Bike Trails, Ballyhass Lakes Adventure Centre, The Donkley Sanctuary Ireland, Lough Gur
I have reviewed a number of family-orientated stays including Doonbeg, Athlone, Monaghan, Limerick Greenway, Cork, Ennis & Doolin, Lough Eske Castle, Faithlegg and Cabra Castle - and I was lucky enough to be invited as a guest of Ballhoura Develo[pment CLG and Charleville Park Hotel for two nights on a complimentary basis.
For more information on the many hidden gems that Ireland has to offer visit discoverireland.ie
---
For more reviews, tips and parental anecdotes follow me on:
| Facebook | Instagram | e: digitaldad@rte.ie |