I'll be honest, Athlone had never featured on my staycation bucket list. I'd never given it a moment's thought. In fact, I wasn't even sure if it was in Westmeath or Roscommon (it's the former), but if there's any positives to be taken from this pandemic it's been the opportunity explore some of Ireland's hidden gems.
Enter Ireland's Hidden Heartlands. Enter Athlone Town, a beautiful surprise on the banks of the River Shannon.
Our home for two nights was the lovely Athlone Springs Hotel & Leisure Club, a family friendly, pet friendly, 68 bedroom hotel just a 10 minute drive from the town centre.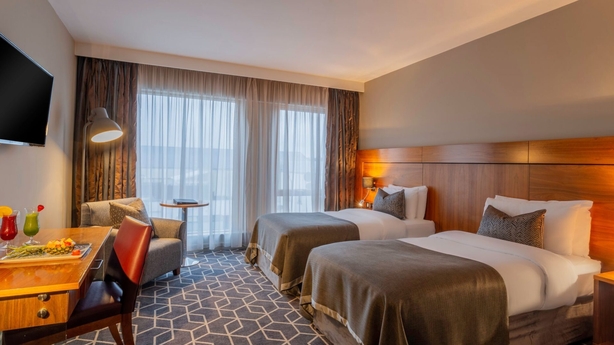 The rooms in the hotel are very spacious and we were lucky enough to have interconnecting rooms - one for the boys and one for the wardens. We kept Jolly Jasper, our one year old, in with us and even with a cot in the room we had enough space to hide from the kids. Absolute bliss.
Add smart TVs to the mix and we didn't hear a peep out of the boys before 8.30 any morning. Not even our 7-year-old 'oh look, the sun is up I better wake the whole hotel' was to be seen or heard. It was only the subtle (or not so subtle) waft of a dirty nappy that reminded us that we even had kids.
But rooms and fragrances aside, the Athlone Springs is a perfect hotel for a family stay. Their Leisure Club, which boasts a 20 metre pool, a sauna and a jacuzzi, is a great addition and while the only machine I tried in the gym was the Kit Kat one, the pools (both adult and kids), were excellent.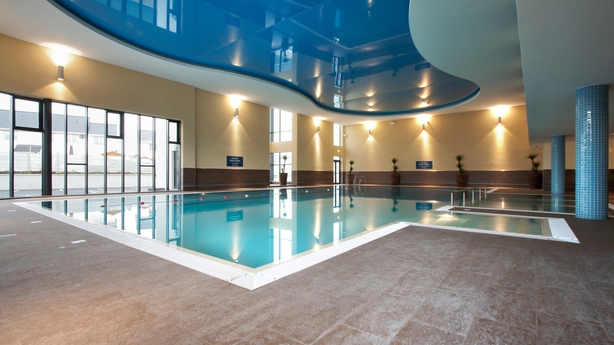 On our first night we ate in the hotel's newly refurbished Cedar Brasserie & Bistro. Now, dinner with four young kids is never something I look forward to and as any parent will know s**t can hit the fan at any given moment... and I don't necessarily mean the metaphoric kind.
We needn't have worried.
Taking the threat of the straight jackets folded under the buggy aside, the restaurant had lots of families with kids of all ages and with its high ceilings and large open spaces, any shouts, screams or tears would have been quickly absorbed.
The menu, simple yet tasty, was very nice. Mrs. DD had goat's cheese bruschetta to start, followed by spiced buttermilk chicken salad, while I opted for crispy chicken wings for starters, oriental chicken stir fry for main and Eton mess for the finish.
The kids menu was very good too with some of the options ranging from penne pasta and roast beef/chicken to steamed fish and grilled chicken. It was great to see a kids menu with so much variety.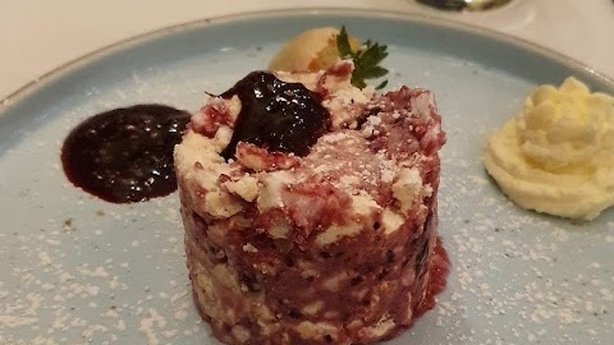 I'd also like to highlight how professional and accommodating the staff were with dealing with our two nut allergy kids. As parents, it'll be a lifelong fear for us but I have to say throughout our various little trips across Ireland this summer, every restaurant, hotel and café we've visited have been brilliant. The kid's allergies have been handled with zero fuss and total professionalism and it's very reassuring to see.
Our first full day in Athlone started with a visit to Athlone Castle, a 12th century castle located in St Peter's Square overlooking the Shannon. The castle itself is relatively small but the museum contains numerous exhibitions and artefacts which are very well done. There's also an excellent video which details the Siege of Athlone and includes reenactments and illustrations of same.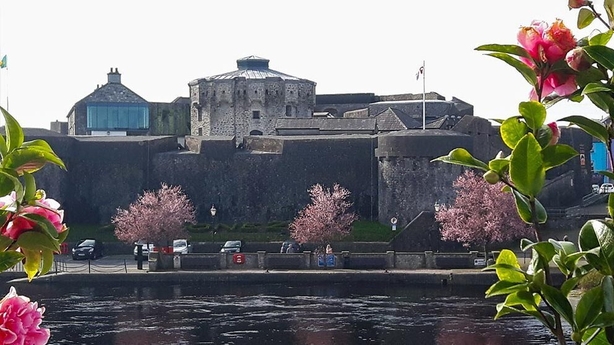 On a sunny day, which we were looking enough to have, the castle courtyard is a particularly special place to be. Here you can visit the various battlements, soak up the panoramic views of Athlone or enjoy a game of chess on a life-size board. Other games such as Noughts & Crosses and Jenga were also available to play on the various picnic tables plotted around the courtyard. It was good fun and there's something for all ages to enjoy.
For lunch, we explored the town by foot and enjoyed lunch in one of the many outdoor cafes before going to Sean's Bar - officially Ireland's oldest pub - for some light refreshments
That evening, we booked a boat trip with Viking Tours where we cruised up the Shannon to Lough Ree on a replica Viking ship captained by Viking Mike and deckhand Viking George,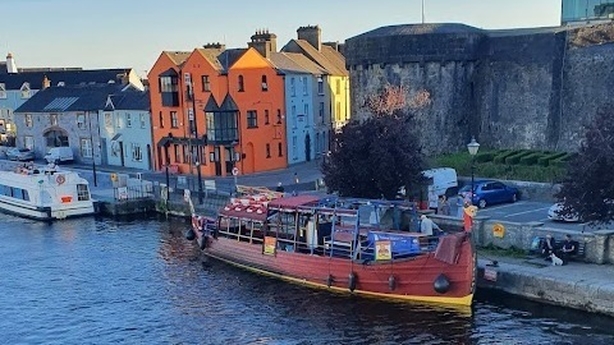 The cruise lasts circa 75 minutes and it's a very relaxing 75 minutes at that. The scenery is spectacular and with live commentary and stories throughout, it's an excellent and very informative way to spend an evening. There's even a bar on board should the mood take you.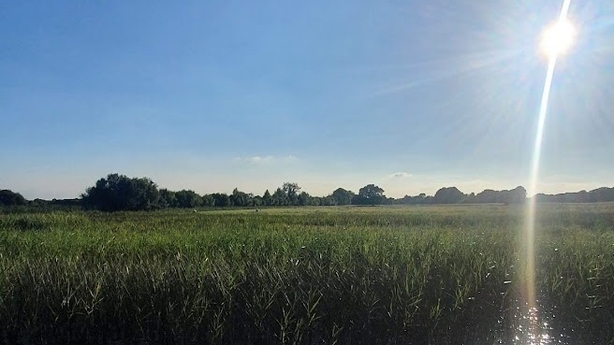 We were able to bring our buggy on board and if you're booking I'd recommend the evening sail because it's less busy so you'll have lots more space to roam around the ship. Either way, pencil it in, you won't be disappointed. We all loved it.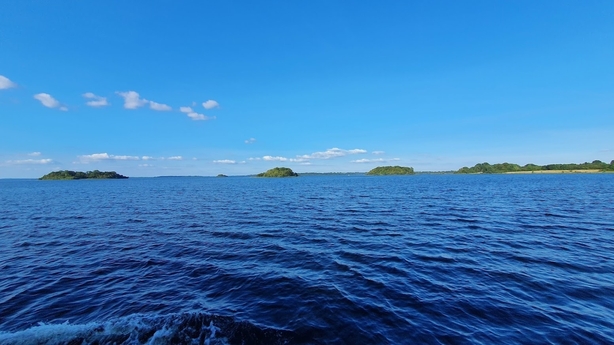 For dinner that evening we headed back to the hotel for some alfresco dining in the hotel's Secret Garden - an outdoor garden area which serves a scaled back version of the main restaurant's menu. Again, sprinkled with people enjoying an evening bite and tipple, it was a great place to dine as a family and there was ample room for the kids to stretch their legs without annoying anyone.
Following dinner I went for a night swim with my two eldest boys before we retired for the night in preparation for a morning of adventure at Baysports - Ireland's largest inflatable water park.
And what a morning it was too. No sooner was the sun shining than we were woken up by our very excited birthday boy, Freddie, who had been counting down the seconds to turning 10. Double digits for him and a decade of parenting for us... wow, where did those years go?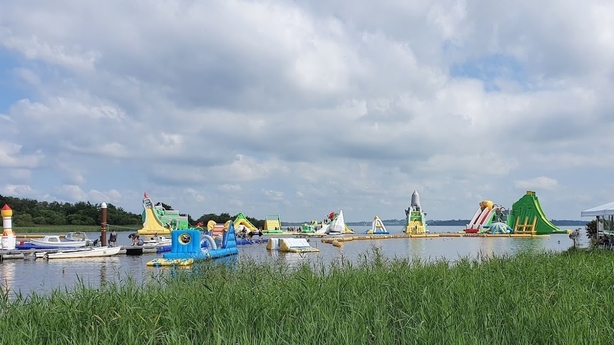 With gifts unwrapped and bellies full from another hearty buffet breakfast, we checked out of the Athlone Springs and headed with nervous excitement to our inflatable destination.
Situated at Hodson Bay and only 10 minutes from the hotel, Baysports is a waterpark made up of a huge collection of floating slides, rockers and challenges. They even have the Guinness World Record for the world's tallest inflatable waterslide. It's insane. Insanely good.
What's even better is, it's not weather dependent so you'll have a ball regardless of the conditions. Wetsuits and buoyancy aids are provided and with a junior park also available for younger kids there's something for all ages. Now, if like me, you've never been to an inflatable waterpark then plan a trip because it's brilliant fun day out for the entire family.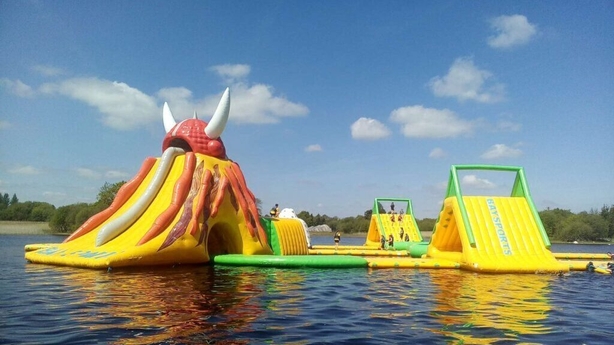 The only drawback for me was that 60mins wasn't enough time to cover everything. Realistically you'd need 90 mins - then again I'd be a slug compared to most of the kids splashing about the place - but that's just another reason to come back again. Regardless, it was so much fun.
If inflatables aren't your thing, fear not, there are lovely spots to chill out and enjoy a coffee or a picnic while you watch your loved ones sliding into the water from ridiculous heights.
And that sums up Athlone too i think; there's something for everyone of all ages, by land and by sea. Time permitting we would have liked to have visited Dún na Sí and Clonmacnoise but I've no doubt we'll be back.
The Athlone Springs hotel was a perfect base from which to explore and whether it's castles, cruises, inflatable water parks or just chilling by the banks of the Shannon there's so much to do and see.
I'd recommend visiting Athlone. Maybe it's hidden because it's so good.
DD
Location: Athlone
I have reviewed a few family-orientated stays including Loughcrew Estate, Ennis & Doolin, and Cabra Castle - and I was lucky enough to be invited as a guest of the Athlone Springs Hotel for two nights B&B (including one evening meal) on a complimentary basis.
Thanks also to Athlone Castle, Viking Tours and Baysports for inviting us on a complimentary basis.
For more information on the many hidden gems that Ireland has to offer visit discoverireland.ie & athlone.ie
---
For more reviews, tips and parental anecdotes follow me on:
| Facebook | Instagram | e: digitaldad@rte.ie |