I've ashamedly only ever been to Donegal once and if memory serves me right, it was my eldest son Freddie's 1st birthday, so we were knee-deep in nappies, wet wipes, tantrums, teething and sleep deprivation at the time. A beautiful combination, I'm sure you'll agree.
It was nice, don't get me wrong, but prison would have a welcome break too. It was one of those weekends. 
But seven years on and three kids later (with number four due in July), we got the opportunity to visit again, this time to Lough Eske Castle - a beautifully restored 17th-century castle in southwest Donegal which dates back to the O'Donnells, the founding fathers of Donegal - and it couldn't have been any more different.
Now it's far from castles that I was reared but as soon as we made our way down the long winding driveway to our five-star abode I knew we were in for something special. All the signs were there: the sun was shining, the lake was shimmering but most importantly our kids were being looked after at home by their grandparents. We were already winning.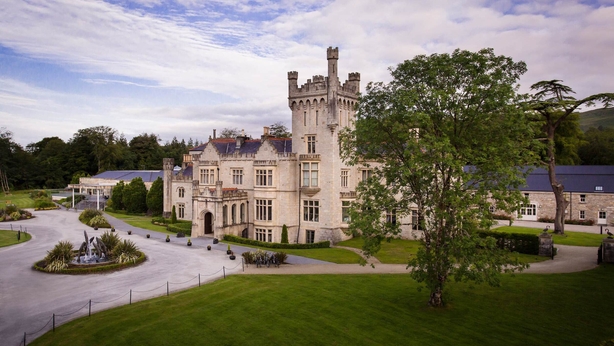 This was going to be a weekend of luxury, fine dining and breathtaking scenery and I can tell you now, it didn't disappoint.
Check-in was fast, friendly and fuss-free. Our deluxe room was clean, cosy, very spacious and with a massive four-poster bed that all 3 of our kids could have easily lived in. But this wasn't about them. They were no doubt getting spoiled and 'sugar buzzed' by their grandparents. This was about us, about R & R, about enjoying ourselves before baby number 4 starts inhibiting certain abilities.
After unpacking our bags, we headed out for a walk around the gorgeous grounds - I'll try not to use that word too often because g…….s typifies the whole experience - followed by a dip in the heated pool which was located in a bright and airy glasshouse, along with the onsite spa.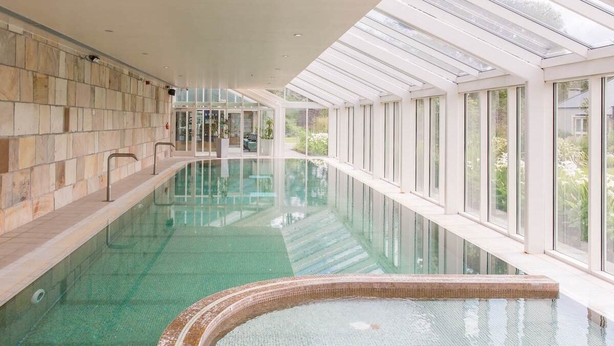 Afterward, I hit the steam room while Mrs. DD headed back to the room for a cat nap and some chocolate-dipped strawberries and macaroons which had been left for us on our return. A lovely touch.
That evening we ate in The Gallery Bar. I had the fresh fish and chips and Mrs. DD had a Smokey Club. Both were delish and the bar, with its mahogany interior, atmospheric hanging lights and buzzing atmosphere, was the perfect location for this kid-free couple to unwind.
The next morning, after a scrumptious breakfast - there was everything you could have wanted - we headed off on a day tour to Sliabh Liag courtesy of the lovely folk at Fáilte Ireland.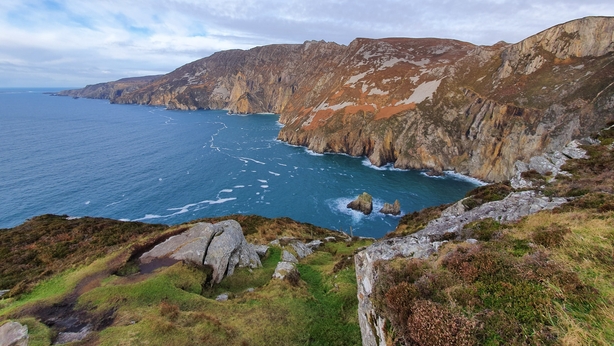 Our tour guide, John McGroary, picked us up at 11 o'clock outside the castle and dropped us back at 5pm after visiting Killybegs, Sliabh Liag, Silver Strand Beach, and Glencolmcille Folk Village, with a spot of lunch at The Rusty Mackerel Bar and Restaurant along the way. 
We even got to see Matthew Broderick and Sarah Jessica Parker's holiday home - a real Sex in the County experience (did you see what I did there).
We had a great time and if you're ever planning a trip to Donegal I'd highly recommend booking a tour.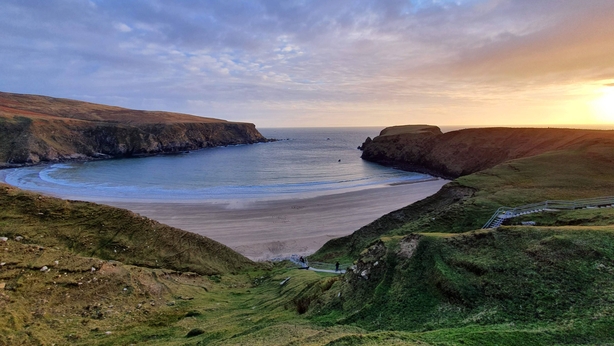 That evening, we ate our inclusive three-course meal at Cedars Restaurant and to say the food was incredible would be an understatement. The portions were delicate but of the finest quality.
We both had the fresh crab for starters, followed by a fillet of beef for Mrs. DD and freshly roasted cod for moi, all washed down by a fabulous red from their extensive list of house wines. For dessert Mrs DD had a white chocolate cheesecake and piggy here had the lemon tart. It was incredible. Really incredible and if you've been following me on here or on social media for a while, you know I don't say that lightly.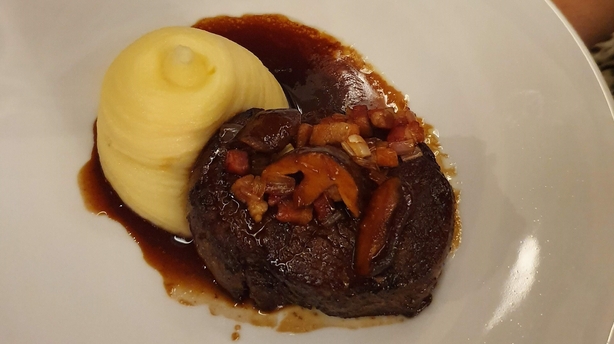 The next morning we headed down for another scrumptious breakfast - this time we were seated in a plush velvet booth - followed by a tour of the castle (run daily at 11am) and another walk of the beautifully landscaped grounds.
With heavy hearts, we checked-out, with the promise that we'd definitely return to Lough Eske Castle again because it really was a fabulous experience. The accommodation, the food, the staff, the facilities, the surroundings - they were all second to none and I genuinely had nothing to complain about, bar going home.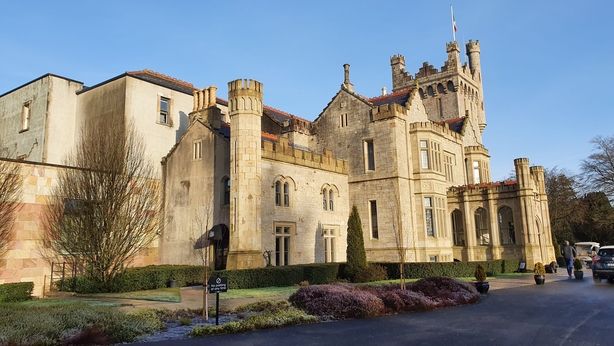 We returned to Dublin, refreshed and recharged (until we saw the kids) knowing that we only scratched the surface of beautiful Donegal. We're already planning a return trip at Easter.
DD
Details: 
We were invited by Lough Eske Castle to experience their 'Castle Break Offer' on a complimentary basis.
This package includes: 
Accommodation in a Courtyard or Deluxe Guestroom with full Irish breakfast 
Welcome glass of sparkling wine, delicious castle baked scones served with tea/coffee
A sumptuous three-course dinner in Cedar's Restaurant on one evening 
Complimentary use of our swimming pool and fitness suite
Price: €469 per room for two-night stay Friday/Saturday or Saturday/Sunday
For more details and offers visit www.lougheskecastlehotel.com
Sliabh Liag Tour
The day tour to Sliabh Liag was organised by Fáilte Ireland who partnered with Irish Tourist Board approved guide John McGroary.
Price: €35 per person (minimum of 3).
For more details visit: www.walkingireland.ie/
Other hotels in the area include:
Harvey's Point
Mill Park Hotel
The Abbey Hotel
---
For more reviews, tips, anecdotes and the odd giveaway, you can find me on:
Facebook | Instagram | e: digitaldad@rte.ie