It only feels like yesterday when we were last in Clare. We had a week of glorious weather, glorious food and a great family adventure.
We enjoyed it so much that we promised the kids we'd be back again and while the Cliffs, Caves and Aran islands were off the agenda this time around, once again Clare didn't disappoint.
Anyone with kids will know that nearly everything is a hassle - packing bags, unpacking bags, finding shoes, herding them into a car, refereeing fights, waiting the 9 hours as they insist on buckling their own seat belts...even an uninterrupted toilet break feels like a mini honeymoon these days, so if I'm being honest I wasn't sure if I even wanted to bring four Gremlins along for '5 star hassle'.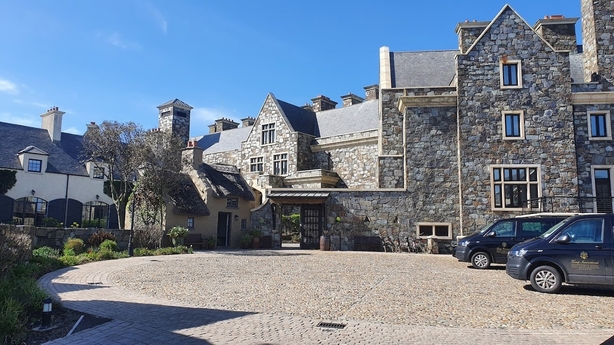 But hassle it wasn't. Arriving at the resort couldn't have been easier. We were met by a concierge at the gates who directed us to our self catering cottage where a member of the guest services team met us to check us all in. Simple. Brilliant. Hassle free.
While we unpacked, the kids headed to the Kids Club - located in one of the cottages and available to kids over 5 - while we unpacked and explored our opulent digs for the next two nights.
The hotel and golf course, which opened in 2002 and were acquired by Trump Hotels in 2014, consist of both guest rooms and cottages, the majority of which are individually owned, with the Trump family owning a few.
We were lucky to have one of their luxurious three bed Links Cottages which had enough space to house two families. The cottages are beautifully decorated with a warm, almost alpine-like, feel and each include underfloor heating, air conditioned bedrooms, king sized beds, marble bathrooms with walk-in rain showers, a fully equipped kitchen, coffee machines as well as a spacious living area with a fireplace.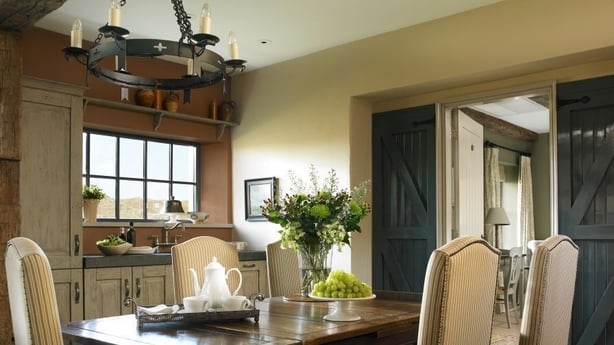 While the kids enjoyed the Kids Club, we took full advantage and took a free shuttle (available 24 hours) up to the hotel for some light hassle-free refreshments before walking back to pick up the boys who had to be dragged away from the football pitch, snooker table and movie room.
That evening, as the sun set over Doughmore Beach, we ate at Trump's Bar & Restaurant which overlooks the first fairway. The food, including separate options for kids, was simple yet delicious and the service was impeccable. We wanted for nothing.
The staff were very professional, very friendly and brilliant with the kids. It was a lovely evening in a beautiful setting.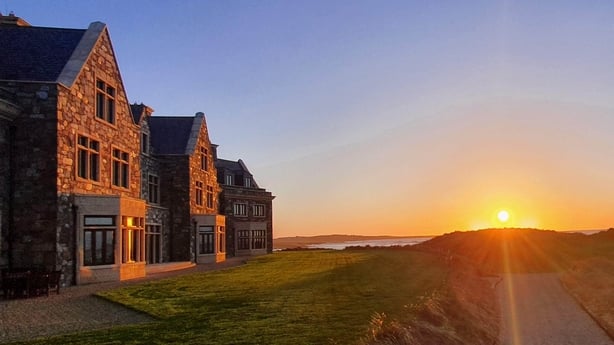 Breakfast was equally as good - in fact possibly the best we've ever had - and once again the staff and service was excellent. With bellies full we took a short stroll to Doughmore Beach where Mrs. DD and our two eldest boys enjoyed an hour of horse trekking while muggins here counted sand particles and did his best Mitch Buchannon trying to stop the other two from running into the water.
On Doonbeg's doorstep are some of Ireland's most popular attractions: The Cliffs of Moher, The Burren, Ailwee Cave & The Aran Islands and while we visited them last summer we instead took the opportunity to explore the Loop Head Peninsula that afternoon.
We had lunch in Kilkee, explored Carrigaholt Castle, drove the beautiful scenic route to Loop Head Lighthouse and walked down to the EIRE sign on the cliffs. We were once again blessed with weather in a beautiful part of Clare.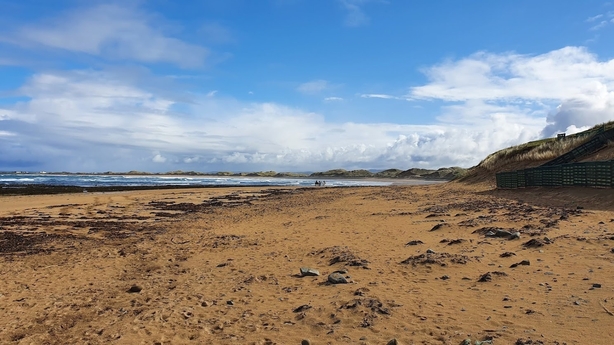 With our youngest getting cranky and Mrs DD's Long Covid taking its toll, we headed back to our beautiful cottage so that they could rest while myself and the three other boys walked to the hotel for some putting practice and a cordial or two as we once again watched the sun set over Doughmore Beach.
That evening, following dinner in the resident's bar for the boys, we headed back to the cottage to meet our babysitter (arranged through the hotel) so that myself and Mrs. DD could enjoy a meal sans Gremlins in the Ocean View Restaurant. It was peaceful, it was delicious, it was a lovely experience.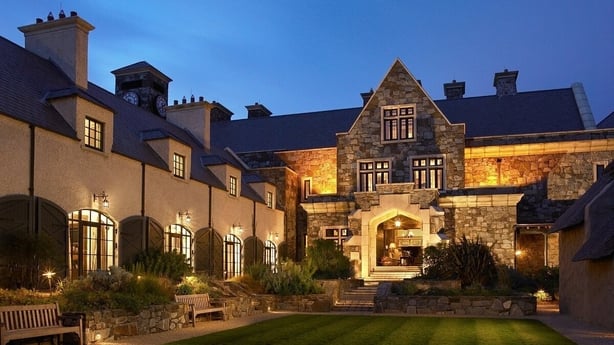 The following morning we opted for a Linger for Longer breakfast basket - everything you would need from a full Irish and pancakes for the little ones, to pastries, cereal, fruit, tea & coffee - delivered to our cottage.
It was an inspired choice and a brilliant service especially when you have packing to do and a half naked toddler running around with a tub of Sudocrem in his hand.
It really was with heavy hearts that we left Doonbeg. We had an amazing time in such a beautiful, rugged location.
I really wasn't sure what to expect from it (especially with four young kids), and with Covid affecting international travel over the past two years the resort has seen a dramatic increase in staycationers, none more so than families wanting to treat themselves, and they've adapted brilliantly to this.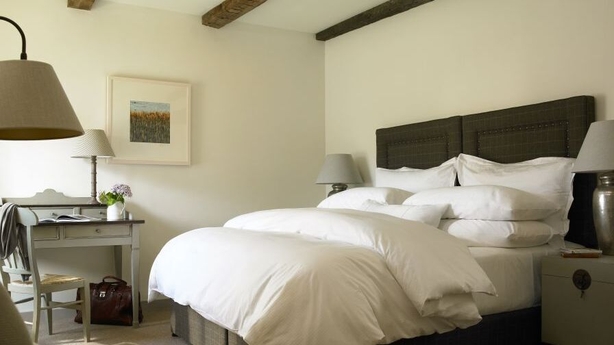 Horse trekking, putting practice and the kids club aside, the hotel also offers a range of non-golfing activities whether it's fishing, surfing, kayaking, onsite go-karting, dolphin watching, sailing, cycling, junior pitch 'n' putt.
The complimentary 24 hour shuttle is a fabulous service too and also extends to Doonbeg village which is great if you want to enjoy a night out away from the hotel.
It's hard to fault Trump International Doonbeg. The staff are lovely and the service second to none. It's a cosy hotel with cosy rooms and cosy cottages. You feel welcome there. Yes, it's expensive but it's a treat and we all deserve a treat after the last few years we've had.
I can't wait to go back again, and I'll have no qualms about bringing the boys either. It was hassle-free 5 star luxury and I'm thankful for having the opportunity to experience it.
Clare, I'm still in love with you.
DD
Location: Doonbeg, Co. Clare
Accommodation: Trump International Doonbeg
I have reviewed a number of family-orientated stays including Limerick Greenway, Athlone, Cork, Ennis & Doolin, Lough Eske Castle, Loughcrew Estate and Cabra Castle - and I was lucky enough to be invited as a guest of the Trump International Doonbeg for two nights on a complimentary basis.
For more information on the many hidden gems that Ireland has to offer visit discoverireland.ie
---
For more reviews, tips and parental anecdotes follow me on:
| Facebook | Instagram | e: digitaldad@rte.ie |