Opened in July last year, and built along the former Limerick to Tralee railway line, the Limerick Greenway carves a 40km path through West Limerick's countryside, weaving through traditional agricultural landscapes and linking the major towns of Rathkeale, Newcastle West and Abbeyfeale.
And before you say "40km!! are ya mad!", believe me I'm no Stephen Roche, but the majority of the Greenway is flat and the surface has been designed with mobility in mind so It's safe and suitable for all fitness levels.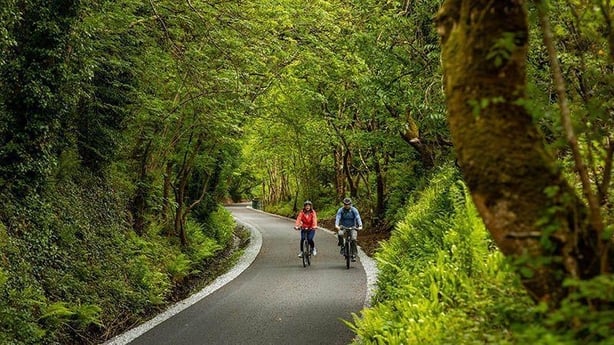 Our accommodation for two nights was the lovely Longcourt House Hotel, situated in Newcastle West and only a short drive to any of the entry points located at key spots along the Greenway. It was a great base with excellent staff, and being very child-friendly it was perfect for our needs..
In terms of bikes and equipment, Limerick Greenway Bike Hire offer a wide range of options, including shuttle services, and given that we have four young kids and one Long-Covid suffering wife (12+ months now), myself and Mrs DD opted for electric bikes and a trailer for the two youngest boys, while Freddie (10) and Reilly (8) opted for geared push bikes.
As mentioned, the Greenway is accessible from a number of entry points all along its route which is great as it gives you the flexibility to experience it in one visit or explore in shorter stages.
Given Mrs DD's health issues and Jasper, our 16-month-old who'd no doubt need a nap and 'a change', we decided to start at Abbeyfeale on the Limerick-Kerry border and make our way back to Newcastle West where herself and the 3 younger boys would finish, and Freddie and I would continue the rest of the journey to Rathkeale.
So off we set and I won't lie, I was expecting the kids, well one in particular, to start their 'are we there yet?/I'm hungry/I've to go to the toilet/can someone cycle for me?' 15 minutes down the road.
But to my surprise all moans were replaced with smiles and expressions of delight as the two boys enjoyed the freedom and safety of the road while Tweedledum and Tweedledee screamed with delight in their 'F1 trailer'. Even Mrs DD on her electric bike was having a ball and let me tell you, a keen cyclist she isn't.
The route was quiet and very peaceful and bar a few cyclists, walkers and runners, we pretty much had the road to ourselves. As we clocked up the kms we passed through lots of old villages and towns, the native forest of Tullig Wood, ancient castles, ruins and abbeys, restored stations from the Victorian era and the very dramatic Barnagh railway tunnel.
We need your consent to load this Instagram contentWe use Instagram to manage extra content that can set cookies on your device and collect data about your activity. Please review their details and accept them to load the content.Manage Preferences
For lunch we stopped at Barnagh - 13km from Abbeyfeale/10km from Newcastle West - and one of the highest points of Ireland's old railway system. Here, The Barnagh Hub offers a range of amenities such as bike hire, crazy golf, a playground and the lovely child-friendly Platform 22 Café where you can refuel on delicious food, cakes and coffee!
With our 'Barnagh Bellies' full, we headed on a very leisurely 10km section of the Greenway along Ferguson's Viaduct and downhill into Newcastle West, the largest town in Limerick outside of the city. It was here that we said our goodbyes to Mrs DD and the three younger boys - Limerick Greenway Bike Hire provided a shuttle back to the hotel for them - while Freddie and I continued our journey to Rathkeale.
That evening we headed back to our family room in the Longcourt Hotel to rest our weary bones (and a very sore ar*e, I must say) before tucking into a lovely meal in Chaser's restaurant.
I can't stress enough how much fun and how enjoyable the whole experience was. For a family of six, especially one with young kids, it's often hard to find activities that suit everybody, but we all had an absolute blast.
Even the 'Trailer Boys' had the best craic pretending they were race car drivers and doing their best to bring their Platform 22 treat box home in one piece - only 2 cupcakes needed surgery/immediate eating.
We need your consent to load this Instagram contentWe use Instagram to manage extra content that can set cookies on your device and collect data about your activity. Please review their details and accept them to load the content.Manage Preferences
As parents, it was a lovely way to bond with the kids and given how safe the Greenway is, we were able to relax and fully enjoy the West Limerick landscape without worrying about traffic, etc.
The boys have asked if we can do it again and we will -100%. Mrs DD hasn't quite asked for her own bike yet but if there are any hesitant cyclists out there, I can't stress enough how easy the Greenway is, especially with an electric bike. It's a game-changer and makes the experience all that more relaxing and enjoyable.
The following day we headed back to Dublin but not before stopping off at Stonewall Wildlife Park – the kids loved this - followed by lunch in The Good Room, Adare, where I can only say I had the best Red Velvet cake of my life. I'd cycle to Limerick just for that.
So get out there, give it a go! It's 2022, try something new and experience what Limerick has to offer... just wear some padded pants as it took a few days for this dad's boney a*se to recover.
DD
Location: Limerick
I have reviewed a number of family-orientated stays including Loughcrew Estate, Ennis & Doolin, and Cabra Castle - and I was lucky enough to be invited as a guest of the Longcourt House Hotel for two nights on a complimentary basis while we experienced the Limerick Greenway
Thanks also to Limerick Greenway Bike Hire, Platform 22 Cafe, The Good Room and Stonehall Wildlife Park for inviting us on a complimentary basis.
For more information on the many hidden gems that Ireland has to offer visit discoverireland.ie & limerick.ie
---
For more reviews, tips and parental anecdotes follow me on:
| Facebook | Instagram | e: digitaldad@rte.ie |