The first night away from your kids can be filled with anxiety for a lot of parents but for us (well me anyway) our first time leaving our 6 month old, Thing 3, was anything but. We're not 'helicopter parents' so any chance we get to 'escape' our kids is always met with enthusiasm.
The prison-break in this case was an overnight stay in Bellinter House, Navan, Co. Meath, and to say that we were looking forward to it was an understatement.
Our rescuers for the night were my in-laws and before they had even finished their offer of taking all three boys overnight, we had packed the toys, clothes, nappies, creams, EpiPens, formula, baby food, monitor, travel cot, kitchen sink and buggy and we were camped outside their front door with the car engine still running.
The only trepidation we had was how soon into the trip would we start arguing about directions.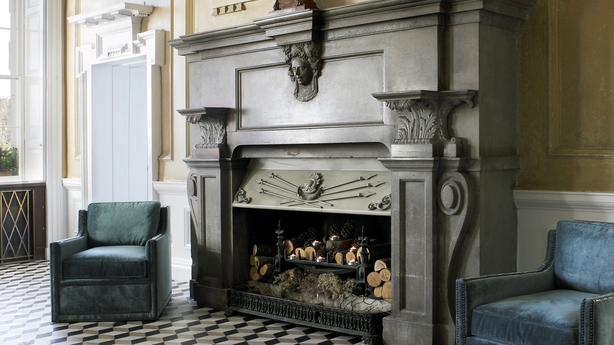 Me and my good lady wife have travelled all over the world together and have umpteen road trips under our belt but navigators we are not. In all our glorious years together we have yet to reach a destination without numerous in-car profanities having been hurled at each other. Thankfully Sat Navs have become the norm but even with that, we still travel with two of them – Google Maps and in-car navigation – just on the off-chance that one of them is 'lying' to us.
So we headed off kid-free and with the sound of two Sat Nav voices talking over each other. It was like having two other stammerers in the car with us...it was starting to sound like a rap song. Forty-five minutes later we 'reached our destination', 'reached our destination' and as we switched off our two travel companions we were ready to relax and indulge in our pre-booked afternoon tea.
And that's what Bellinter House is - a step back in time where one can relax and indulge in the surroundings of a fabulous 18th Century Palladian styled house, designed by Richard Castle the same architect responsible for Leinster House.
Stepping inside we were met by very friendly and knowledgeable staff who informed us of the games room, the library and the set of interconnected drawing rooms that branch off from the lobby. Our bedroom – one of 5 rooms in the main house - was a large Georgian room with high ceilings, pink walls, dark wooden floors, and oodles of character.
Vintage furniture, coupled with a modern mirror-tiled rain shower, centrally controlled lighting, an entertainment system and coffee/tea making facilities (which delightfully included Tunnocks tea cakes) all combine to the quirky elegance of the hotel.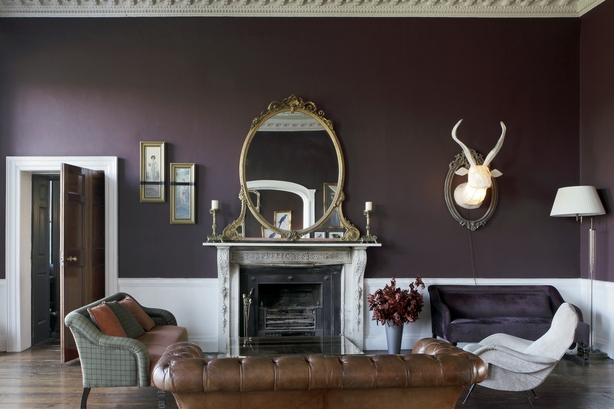 As mentioned, we booked ourselves in for afternoon tea - a selection of hand cut sandwiches, warm scones with cream & jam, and pastries, all served with tea and coffee – and settled ourselves in the fabulous drawing room for the next couple of hours. At €20 a head the afternoon tea was good value for money and the scones ticked all of this Dad-bod's boxes.
My only bug bear was the bizarre Banksy-esque interior design choice of blanking out sections of paintings, with spray paint and masking tape throughout the drawing room. It's an odd choice and we weren't the only ones to comment on it. This is subjective of course and the ultimate first-world problem and to be honest, we were just happy to sit in our palatial surroundings without having to peel ham sandwiches off the floor or wash cream and jam out of Thing 2's hair.
If filling your belly with afternoon tea isn't your thing, then Bellinter's extensive grounds offer a multitude of paths and walks and with wellies available for guests, it's easy to slip into your walking attire and explore what Co. Meath has to offer. Horse-riding, clay pigeon shooting, hot air ballooning, wakeboarding, golfing or fishing on the River Boyne can also be arranged.
Needless to say we did none of these and having hit a food coma we retired to our fabulous room for three hours of uninterrupted sleep. Bliss.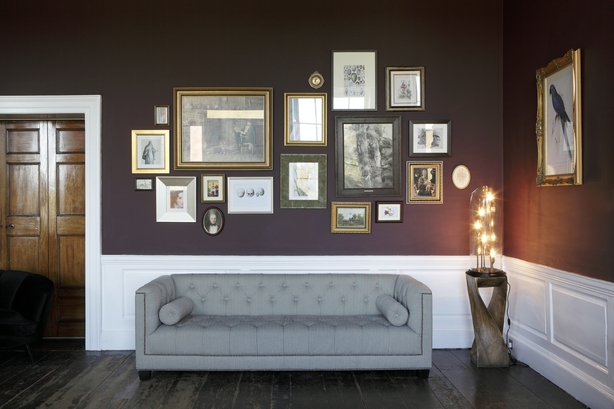 Bellinter's 2AA Rosette award winning restaurant the Eden is located in the vaulted cellar which is accessed via a narrow spiral staircase. The food and service were very good although the cellar itself felt a little sparse which was in stark contrast to the cosy surroundings of the drawing rooms above.
That said we couldn't fault our lovely meal – Eden Smokies and Braised Pork Belly - and two hours later we rolled out of the restaurant and retired to the drawing room for some evening drinks by the open fire.
The next morning we enjoyed a perfectly good buffet breakfast in the cellar before my darling wife headed to the Bathhouse Spa for a very relaxing back massage and some eyebrow treatment thingy. I, on the other hand, headed back for a 2-hour kip in preparation for next 11 months of broken sleep. Hail kids I thought. Hurray.
The damage...
The cost for an overnight stay including a 3-course dinner and full Irish breakfast will set you back €105 per person sharing. Afternoon tea is priced at €20 per person. A 30 minute back massage and eyebrow tint and shape cost €40 and €20 respectively.
Check out their website below for numerous offers including Valentine's packages.
The verdict...
We had the pleasure of being invited to Bellinter House on a complimentary bed, breakfast and evening meal basis. That said I feel that the prices listed above reflect good value for money and as a couple we had a very relaxing and enjoyable stay. It's a very charming venue that perhaps could do with a polish in one or two places but that is to be expected for any 18th-century house.
We had been looking for a one-night bolthole within an hour's drive of Dublin and Bellinter ticked all the boxes. Door to door it took us 40 mins.
We'll definitely be back again.
The details...
Bellinter House, Navan, Co Meath. Tel: (046) 903-0900
Other options in the area...
Other hotel and spa options that we looked at around Meath and Kildare include:
Co. Meath
Dunboyne Castle Hotel and Spa

Johnstown House Hotel and Spa

Knightsbrook Spa & Golf

Tankardstown

Pillo Ashbourne
Co Kildare:
Killashee

The K Club

Carton House Hotel & Gold Club

Osprey hotel & Spa

Clanard Court hotel
Wherever you choose, I hope you have a great time.
DD
Read more from Digital Dad
---
If you have any comments, tips, stories or you like/don't like what you're reading feel free to get in touch. Likewise, if there are any topics that you'd like me to cover please feel free to ask.
Facebook | t: @DigitalDadDiary | e: digitaldad@rte.ie
---