A street party protest in Dublin city centre turned into a street fight with eye-witnesses reporting an excessive response from An Garda Síochána.
An anti-globalisation peaceful protest organised by the 'Reclaim the Streets' (RTS) movement in Dublin on 6 May 2002, culminated in violence on Dame Street between protesters and baton wielding Gardaí. RTS was established in England in the 1990s with the object holding a party in a space normally occupied by cars.
Emmet Bunting attended the event with his girlfriend, younger sister and other couples. He got involved because of the street party aspect of the protest rather than it being activist based. He recalls being chased by guards with batons on Dame Street. He was hit in the face and brought to St James's Hospital by ambulance, where he was admitted overnight.
Clare Connolly from RTÉ Interactive also thought she was attending a peaceful event. She was there to film footage for a four minute segment about protests in Dublin for the programme 'Sampler'. The protest started peacefully on O'Connell Street and moved down to Burgh Quay, the site for the street party. Clare reports there was mainly a carnival atmosphere, although there were some scuffles and beer cans were thrown at the Gardaí during the symbolic car demolition that happens at RTS events. At this point the Gardaí prevented her from filming behind the police line.
They didn't want me to get footage of what was going on.
When protest moved from the Quays onto Dame Street she witnessed unnecessary police force for the first time. This was against protesters standing on the pavement many of whom were shouting,
Peaceful protest, no violence, no interest.
On three occasions she filmed unprovoked police attacks on protesters. She feared for her own safety and was told on two instances that her camera would be seized under the Public Order Act. She does not accept that thuggish elements were at the protest trying to attack the police and did not see any protesters attacking individual Gardaí.

What I did see was beatings which I did not see the protesters putting up any fight.
The Minister for Justice, John O'Donoghue, has ordered a full report into the Garda handling of the protest and the Labour Party and the Green Party have said the events emphasised the need for an independent assessment of An Garda Síochána.
A 'Morning Ireland' report broadcast on 8 May 2002. The presenter is Cathal Mac Coille.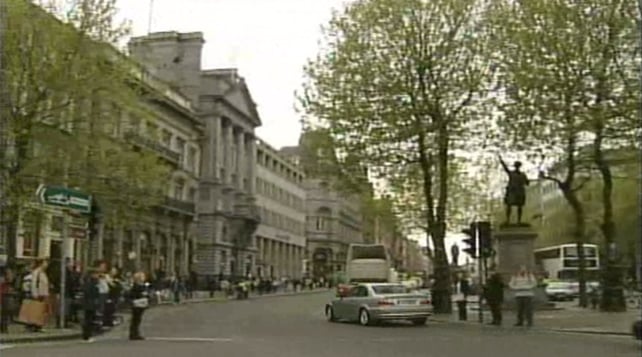 Dame Street in Dublin.