2 million pilgrims venerate the reliquary of St Thérèse of Lisieux
Thousands of pilgrims travel to Knock, County Mayo this week-end to take part in religious ceremonies surrounding the national tour of the relics of St Thérèse of Lisieux.
Dr Patrick Ahern, Auxiliary Bishop of New York believes in the power of the relics
The faith is there. Nobody can root the faith out of Ireland. It is there and it needs to be called to life again and she will do that.
Tour organisers say more than 2 million people have so far prayed before the relics of the Saint, known as 'The Little Flower at over 50 locations North and South during the 11week national pilgrimage.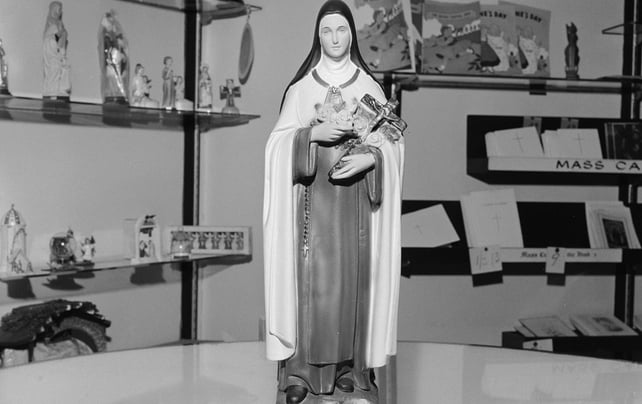 Statue of St Thérèse of Lisieux (1966)
Chaplain to Tour, Fr Desmond Flannery, is impressed with the numbers 'the response has been enormous'.
This report shows pilgrims from the Diocese of Down and Connor visiting Knock to pray for various intentions before the relics move on to Loughrea.
Kathleen Short from Belfast prays for peace 'we've had thirty years of it, we don't want any more'. Sister Lyola, from Macroom, County Cork admits that 'my dream prayer is for the youth of Ireland' and hopes the Little Flower can help to bring back young people to the Catholic Church.
The visit of the Relics of St Thérèse of Lisieux to Ireland takes place from April to 27 June 2001
An RTÉ News report by Jim Fahy broadcast on 10 June 2001.