Relics of Saint Therese of Lisieux popularly known as 'The Little Flower' are welcomed to Rosslare.
Almost three thousand people came to greet the relics of Saint Therese of Lisieux as they arrived in Rosslare. A further one million people are expected to venerate the French saint during the 75 day visit of her relics on a travelling tour of Ireland.
The relics were carefully carried ashore at Rosslare by pallbearers from the 10th battalion of the FCA based in Wexford. Bishop Brendan Comiskey said that the relics were in Ireland because the lay people and not the hierarchy of the church had requested them.
This is people power and maybe Lisieux flower power.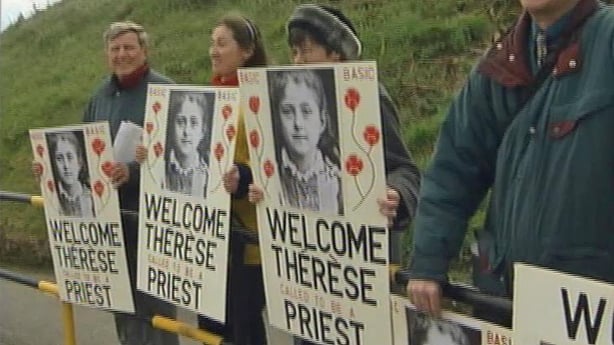 Campaigners for Women's Ordination (2001)
Campaigners for women's ordination were also present in Rosslare. One of the campaigners describes Saint Therese as the patron saint of women priests as she had expressed the desire to be ordained.
The relics were brought to the Rosslare Harbour church where roses were strewn recalling her desire to shower the world with love and the scent of roses. Thousands of worshippers queued to venerate the saint.
Organisers of the tour hope that it will help to highlight Saint Therese's missionary desire to make God known and loved.
They predict this display of popular piety will attract even greater numbers than those which turned out to welcome Pope John Paul to these shores 22 years ago.
Saint Therese died at the age of 24 in Normandy in 1897 and in 1925 was canonised by Pope Pius XI.
An RTÉ News report broadcast on 15 April 2001. The reporter is Joe Little.