The construction of new cable stay bridge over the Boyne is part of the upgrade of the Dublin Belfast road.
The new Boyne Bridge at 95 metres high and 350 metres long is part of the Drogheda bypass project. The bridge is one of the three sections of the Dublin to Belfast route under construction with a total price tag of €450 million.
Work on the other two stages is underway with an expectation that the links across the border will be completed in 2006.
Minister for Transport Seamus Brennan and Minister for Communications, Marine and Natural Resources Dermot Ahern were at the new bridge over the Boyne for the topping out ceremony. Seamus Brennan says that when the motorway is complete, it will reduce travel times and transport costs. There are some concerns that there will be a toll plaza on the route, the first outside Dublin.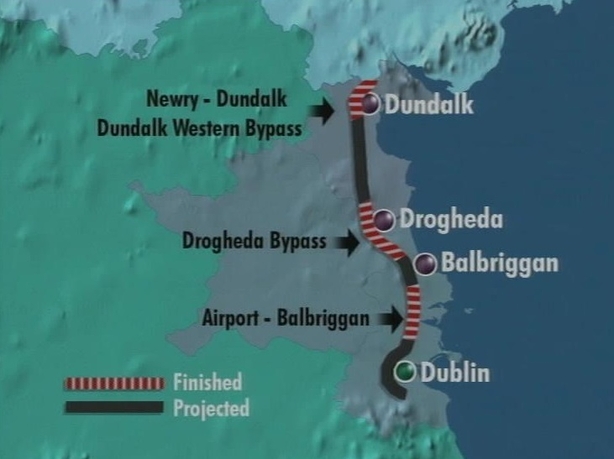 Minister Brennan said he was confident the charges would be modest.
David Pryor, CEO of Drogheda chamber of commerce, expresses concerns that people will have to pay a toll to access the proposed IDA Business Park at Donore.
It is expected that the 23km of motorway will be open for traffic by autumn 2003.
An RTÉ News report broadcast on 18 November 2002. The reporter is Richard Dowling.