President Éamon de Valera pays repsect to Wolfe Tone at the unveiling of a sculpture of the Irish republican.
Theobold Wolfe Tone (1763-1798) was a leading Irish revolutionary and a founding member of the United Irishmen, a republican organisation set up with the aim of ending British rule in Ireland.
A sculpture of Wolfe Tone by Edward Delaney St Stephen's Green in Dublin is unveiled. Speaking at the event President Éamon de Valera outlines how many of the objectives Wolfe Tone had set for Ireland have been achieved. A democratic state in which all citizens are equal before the law has been established.
We have raised a republic which he wished for and longed for and worked for.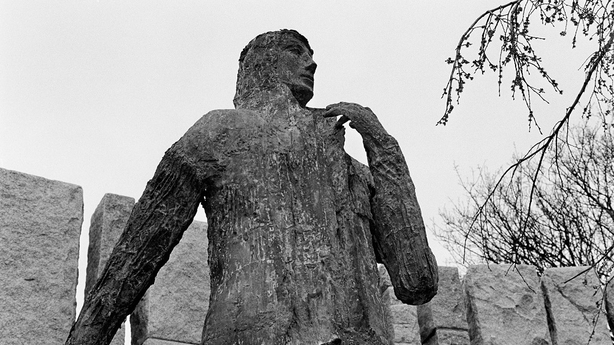 President Éamon De Valera says that Wolfe Tone would not be happy that the entire nation is not yet united.
Let us have the hope and the courage that Tone had. Let us work to see that his ultimate idea will be realised.
President Éamon De Valera greets Kathleen Clarke and Mrs Livingston Dickson, Wolfe Tones great-great-granddaughter.
An RTÉ News report broadcast on 18 November 1967.