Zig and Zag get creative making art from cardboard toilet roll inserts.
With regular 'How Do You Do?' presenter Mary Fitzgerald relegated to making tea and sourcing biscuits, Zig and Zag, the alien brothers from Zog, turn cardboard toilet roll inserts into art.
The brothers advise using the assistance of an adult will be required for the art project. Luckily for them, 'The Den' presenter Ray D'Arcy is waiting in the wings to lend a hand. He runs through the check list of items required for the creative endeavour.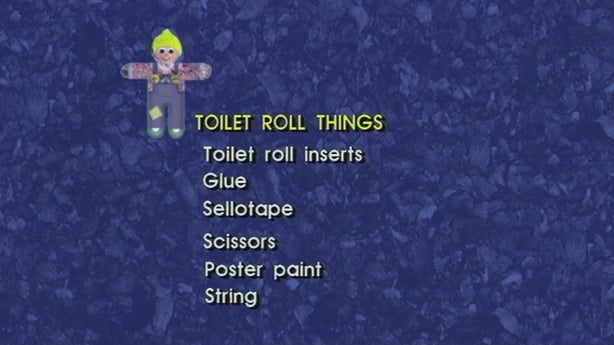 Ray D'Arcy reminds Zig and Zag they must make something interesting. Zig has this matter under control,
We're going to be making some amazing things today out of toilet roll inserts.
As glue and paint is required, Zig and Zag make sure they put lots of newspaper down,
To keep the workspace clean.
The duo set to work making famous landmarks,
Internationally well known buildings and things.
Zag is worried about getting paint on his fur but Zig fearlessly applies green paint to the base of what will become his version of the well known Italian landmark, the Leaning Tower of Pisa.
This episode of 'How Do You Do?' was broadcast on 20 July 1992.