Fatima became a destination for Catholic pilgrims following claims by three children of the appearance of the Virgin Mary.
Fatima in Portugal, famous for the Marian apparitions in 1917, has become one of the main pilgrimage centres of the world. Despite the volume of visitors to the town, it still retains a sense of peace.
Many of the pilgrims arrive here on their knees.
A sanctuary has been built in the field where the three children reported seeing the Blessed Virgin eighty years ago. Two of the visionaries, cousins Francisco and Jacinta Marto are buried in the neary Basilica of the Holy Trinity. The third visionary, Lúcia dos Santos, is now 90 years of age. Lúcia became a nun and lives in a convent just 20 miles away.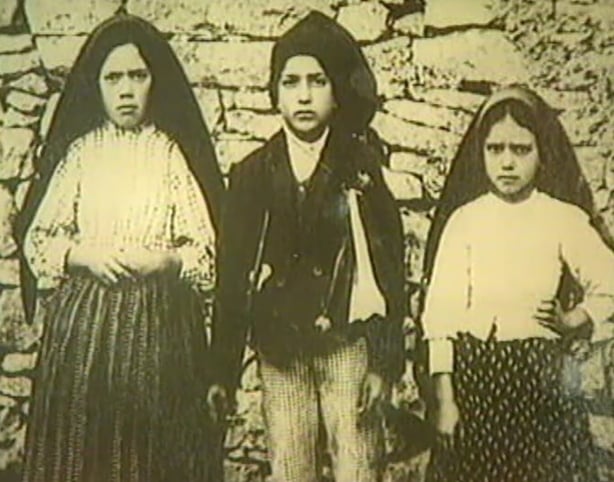 Most of the pilgrims to Fatima are Spanish and Portuguese and many are children and young people. The number of Irish visitors to Fatima is growing. Pilgrim tour operator Lauri Duffy says that this year it is expected that about 2,500 Irish pilgrims will make the journey to Fatima. While the number of Irish pilgrims is growing, it is still much smaller than to Lourdes which receives about 30,000 Irish visitors annually.
Since 1954, Ireland has had a special link with Fatima. The monastery of Pius XII is home to an enclosed community of Dominican nuns and 10 of the 17 sisters there are Irish. Sr Diane and Sr Angela Marie momentarily depart from their tradition of silence to talk to RTÉ News about their lives. While they miss home in Ireland, they have found another home in Fatima.
While local people make a living by selling plastic saints and t-shirts, Fatima is less commercial than Lourdes. The homes of the three visionaries have been preserved in their original simplicity and are open to visitors.
A group of Hungarian Catholics bought some land on the outskirts of the town and built a church with stations of the cross leading to it.
This area gives a sense of the real Fatima and why a million people will visit it this year.
An RTÉ News report broadcast on 19 May 1997. The reporter is Tommie Gorman.