Russian performance artist and clown Slava Polunin brings tragedy and comedy to The Late Late Show.
Miming clown Slava Polunin from Russia performs his arrows routine using the language of movement to tell a story.
Russian performance artist, clown and founder of The Academy of Fools, Slava is in Dublin for a two week stint of his Snowshow at the Gaiety Theatre. The climax of the show sees the entire audience covered in snow flakes. The show also features Brazilian clown Angela de Castro.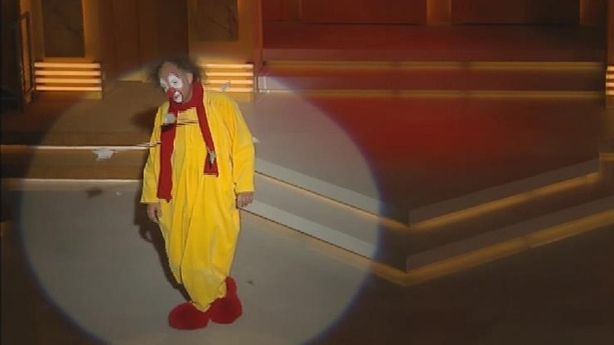 Although he has not seen the show himself, Gay Byrne has been told that,
It really is a magical piece of theatre with the best clowning and the best miming that you're ever likely to see.
This episode of The Late Late Show was broadcast on 18 April 1997. The presenter is Gay Byrne.
A review for the Slava's 'Snowshow' featured in the RTÉ Guide on 24 April 1997.