Irish audiences have the opportunity to experience the world famous Moscow State Circus at first hand.
The world renowned Moscow State circus are rehearsing at the RDS (Royal Dublin Society) in Dublin.
A circus doesn't travel light, nine tons of equipment has accompanied the seventy artists, as have an orchestra and a doctor who is specially trained to cope with any injuries.
There are no animals in this tour, but Irish audiences are in for a treat regardless, says the circus' spokeswoman Muriel Jane Smith, as
The acrobats in this circus are so wonderful, you don't really need animals.
The best known member of the Moscow State Circus is Popov the clown, who has been with them for forty years. Oleg Popove began as a juggler at the age of 14, and is modest about his skills as a performance artist,
I didn't change being a juggler. I just became a clown juggler.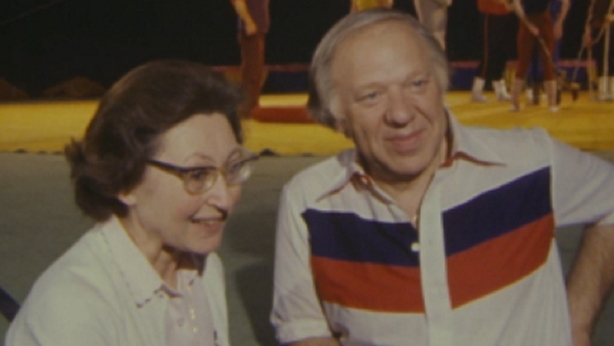 Oleg Popov and interpreter, RDS (1985)
The circus as a performance art form is alive and well in Russia, says Muriel Jane Smith, where audiences throng in purpose-built circus theatres,
It's considered a great art form, in fact on a par with the ballet or opera.
An RTÉ News report broadcast on 9 July 1985. The reporter is Mary Butler.