Preserving circus memorabilia for posterity.
A collection of circus memorabilia including posters, postcards, photographs and models has been collected by Pat Houlihan from Killorglin, County Kerry.
I was fascinated by the way these people came to town... I never missed a circus in all my life.
Pat Houlihan tells RTÉ News about his carved wooden circus models, posters, and his memories of the circus.
His collection, which includes circus, pantomime and Puck Fair memorabilia, is displayed in the basement of his house, which he built himself.
Patrick Houlihan talks of his fascination with how the circus people came to town and set up in a green field. He admires the skills of the circus workers and performers from the wire walking of the trapeze artists, the clowns, and the contortionists. A retired carpenter, Pat Houlihan now uses his skills to create miniature circus figures to add to his collection.
The hey day of the circus was between the two world wars.
Pat Houlihan has been collecting circus memorabilia all his life, with posters from all over the world.
In 2008, the Trustees of Muckross House, as part of their Outreach Programme, began cataloguing, digitising and conserving this vast collection.
An RTÉ News report broadcast on 9 April 1985. The reporter is Conor Fennell.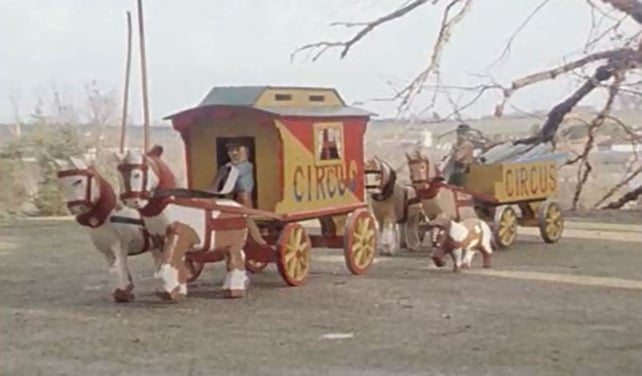 Wooden Model of Circus Arriving in Town