Staff who will work at the Irish language radio station Raidió na Gaeltachta take part in a training course at RTÉ.
Ceannaire (Controller) Pádraic Ó Raghallaigh outlines the new Irish language radio service, the programming and the specialised technical training being provided.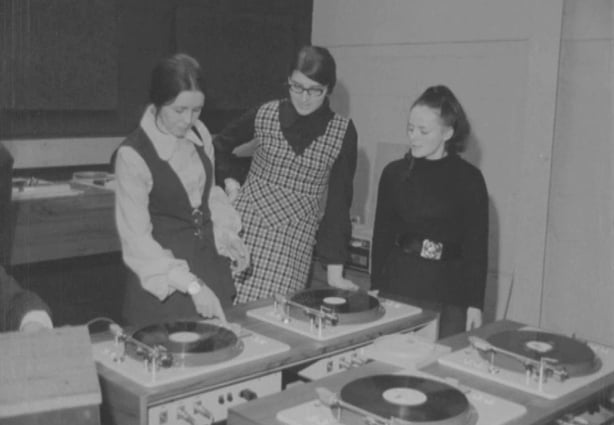 A month long training course covering all aspects of radio broadcasting is being provided to Radió na Gaeltachta staff at RTÉ in Donnybrook,
Baineann sé le chuile earnáil don craolacháin.
Local radio has been enthusiastically received in Britain, and now the Scottish Gaelic and Welsh speaking communities across the water are closely following the development of an Irish language radio station.
Plans for the new radio service are on schedule. Radió na Gaeltachta trainees will travel around Connemara in the coming weeks with RTÉ outside broadcast units to record programmes in time for the first official broadcast at Easter,
Cáisc a dúirt mé, agus faoi Cháisc a thosóidh muid, le cúnamh Dé.
An RTÉ News report broadcast on 17 January 1972. The reporter is Breandán Ó hEithir.
Raidió na Gaeltachta began broadcasting from its main studio at Casla, County Galway on 2 April 1972.