The adventures of Lug na Locha, a magician living in the Burren County Clare and his nemesis Balor the Bad.
In this episode, Lug conjures up a magic spell. Meanwhile, the evil Balor has plans to spoil the Queen of Quin's knitting and summons his magic mist to hide his evil activities. The Queen of Quin subsequently pays a visit to Lug to explain that her knitting is yet again in a tangle.
Down in a house on stilts in Clare lives a magician called Lug na Locha. And Lug has his ears out on stalks for one bad Balor, whose Evil Eve is the best thing about him.

Lug's adventures, written by Bernard Share, come to you from the garden workshop of Jimmy Quin, who invented An Baile Beag, and the marla puppets from Bosco. Lug is a Pinnochio type puppet about the size of a yogurt, and Jimmy shoots his story the same way, frame by frame. It's film-making in miniature.
RTÉ Guide, 2 October 1981
The animation series which was broadcast daily from Monday to Friday provided a mix of both Irish and English.
'Lug' was written by Bernard Share and was broadcast daily from Monday to Friday.
The film was designed by Bill Bolger, filmed and animated by Jimmy Quin, and produced by Joe O'Donnell.
The voices are by Marian Richardson (Queen of Quin), David Byrne (Balor the Bad) and Philip F Tyler (Lug).
This episode of 'Lug' animation series was broadcast on 14 October 1981.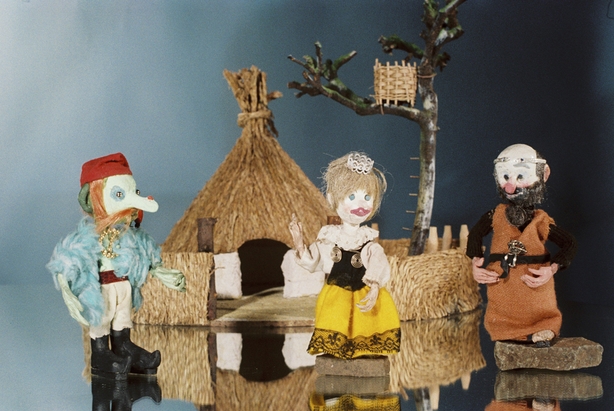 Puppets from 'Lug' (1981)