Professor Plinket E Plonk performs the William Tell Overture on his Magic Piano.
One of the legendary characters of Swiss history was the bowman William Tell. When he refused to obey the foreign tyrants who governed his country, he was made to shoot an arrow through an apple placed on his son's head. This famous incident gave the composer, Rossini, the story for his opera 'William Tell'. From this opera, Professor Plonk plays 'The Overture'.
This episode of 'Magic Piano' was broadcast on 12 October 1980. The voice is provided by Gabriel Byrne with piano by Niamh MacDonagh.
'Magic Piano' was written, directed and produced by Aidan Hickey for RTÉ.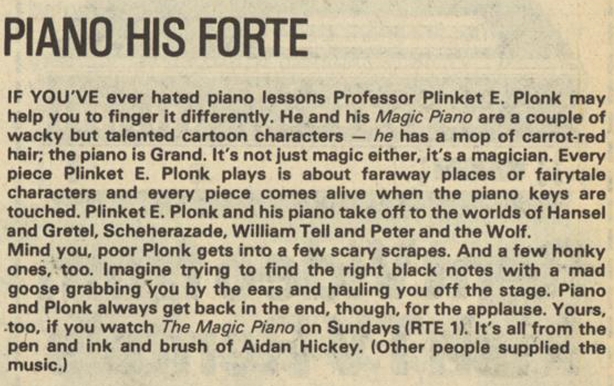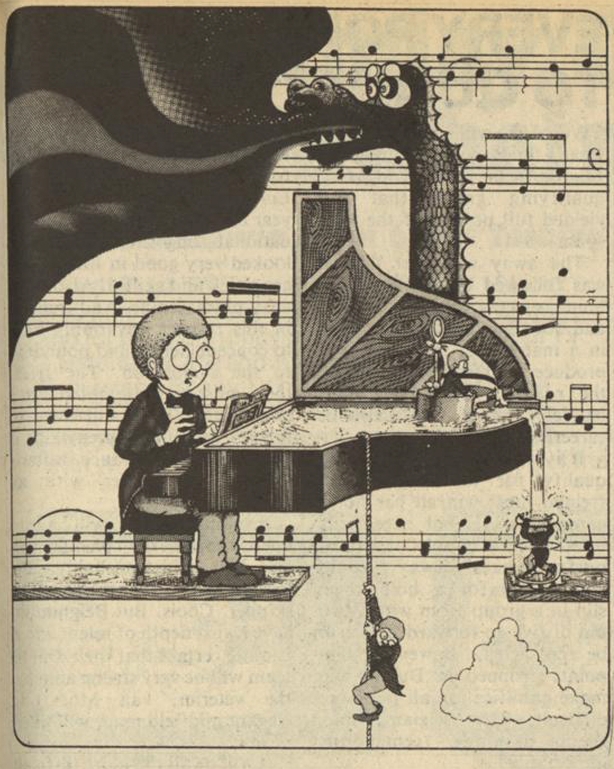 RTÉ Guide, 10 October 1980 - Magic Piano
These animated films are based on a series of concerts given by the celebrated pianist Professor Plinket E Plonk. Each week the great man arrives at the studio where a large and enthusiastic audience welcomes him. As their applause dies away he sits to begin the recital.
But the piano on which the Professor plays is no ordinary instrument. Certainly, it produces the sound of the rnusic as he touches the keys, but before long it also conjures up the story behind the rnusic.
As often as not, its version of the story appears to be somewhat confused
Despite his determination to remain aloof Professor Plinket E Plonk is soon embroiled in the action. The Magic Piano, like Alice's "Looking Glass", opens doors to strange places and hair-raising adventures. Bu in the end, it always ensures that the Professor survives and returns in time to receive the applause of his audience.