Once the family home of the first President of Ireland Douglas Hyde Frenchpark House in County Roscommon is in danger of tumbling down.
Local historian Frank Martin describes neglect of the Frenchpark House as a disgrace.
It's a disgrace and it's a shame that the establishment of this country would allow such a thing to happen.
The house where Douglas Hyde grew up is now in a state of disrepair and decay. There are now very real fears that the house may fall down in the next two or three years unless immediate steps are taken to repair it.
Douglas Hyde's father Arthur Hyde was a Church of Ireland parson and as such the family lived in the parsonage at Frenchpark House.
While he was here, he had a vision of a new Ireland. He saw the structure of Ireland when he was a youth and he saw the corruption, he saw the awfulness of what was going on. He saw Ireland dying, its soul gone.
Frank Martin wants the state to buy the house, restore it to its former glory and turn it into a museum.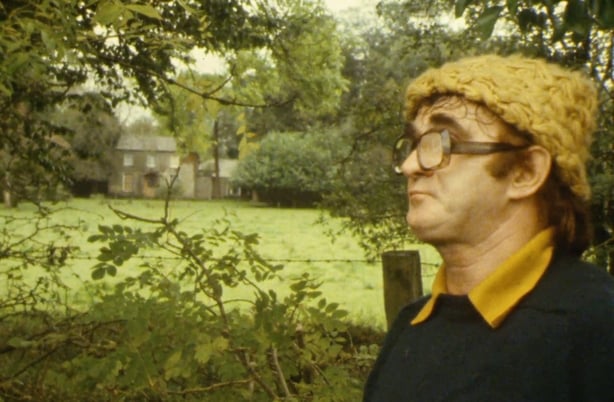 Local historian Frank Martin at Frenchpark House in County Roscommon (1981)
The house is believed to be well over 200 years old and was occupied until about three years ago when it was purchased by a local woman Mary Lavin. However, since then, it has remained vacant. The house has been attacked by vandals who smashed many of the windows.
Mary Lavin says that she spent all her money buying the property and has nothing left to pay for restoration work. She appeals for any financial assistance to carry out the works and would be happy for the state to buy the house and restore it.
Some local historians believe that some of Douglas Hyde's early manuscripts were destroyed at the house over the last thirty years. They are now determined that his family home will not fall into rack and ruin.
According to Frank Martin,
It couldn't happen in any other country in the world, except Ireland.
An RTÉ News report broadcast on 13 October 1981. The reporter is Jim Fahy.