Thousands of historic buildings throughout Ireland are in urgent need of repair.
Conservationists and architects, together with the Department of the Environment, have published guidelines for the upkeep of historic buildings. The guidelines are available free of charge from the Department of the Environment.
Some of the buildings identified include St Catherine's Church on Thomas Street in Dublin which is waiting for someone to bring it back to its former glory.
Everyone says it should be restored but so far, no one has done anything about it.
The Department of the Environment says it cares about historic buildings and has published guidelines for the restoration of such buildings.
It is believed that some of the work being done at present is doing more harm than good.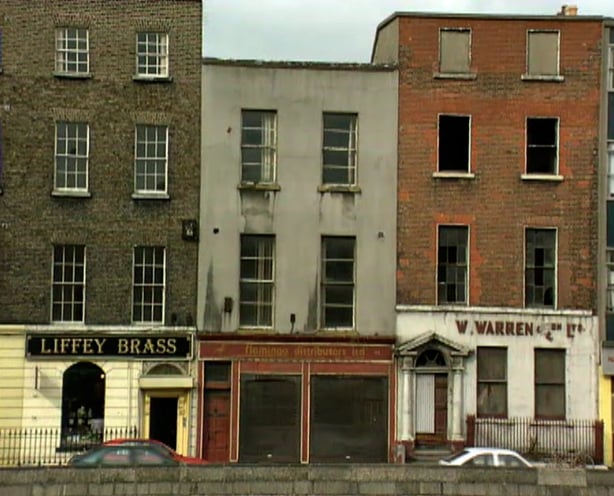 Historic buildings in need of repair on Dublin Quays (1996)
Architect David Slattery expresses concern over the replacement of timber windows with PVC windows which he believes is ruining the appearance of historic buildings.
There are thousands of buildings around the country requiring work. Architects want them be restored sensitively by repairing original features rather than replacing them.
Minister for the Environment Liz McManus says that everyone can play their part in preserving these historic buildings.
An RTÉ News reports broadcast on 8 October 1996. The reporter is Carole Coleman.