The National Ploughing Association celebrate 50 years and hosts the World Championships at Wellingtonbridge in Wexford.
It all began fifty years ago, ploughing behind a horse to see which county produced the best plough man.
When the country was heading into economic war and the challenge of the day was one more sow, one more cow and one more acre under the plough.
By 1981, the golden jubilee year, the championship has grown into a major agricultural jamboree with around £30 million worth of agricultural machinery on display and the potential for millions of pounds in sales.
John Summers from Wexford is defending his title against the best ploughmen from 28 other counties. The World Ploughing Championships will begin on Friday, staged in Ireland to honour the golden jubilee of the Irish Ploughing Association (NPA). Ploughing champions from 21 countries will take part.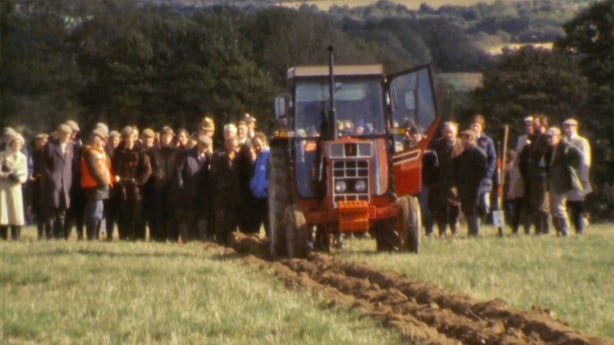 National Ploughing Championships (1981)
For Paul Donovan of the Irish Ploughing Association, good ploughing is the most important thing in farming. He believes that the ability to plough properly can mean money for the farmer in that they can maximise the yield from their plot of land.
Good ploughing means that when the farmer goes out to till his land that he makes property seed bed from good ploughing... and gets a good crop.
An RTÉ News report broadcast on 8 October 1981. The reporter is Michael Ryan.