Controversial plans for a major shopping centre in Kilkenny city centre.
The development is planned for a site at the back of shops on Kilkenny's main street. The plans include the demolition of a shop to provide an entrance to the £15 million shopping centre development. The development will also require the demolition of three houses and a convent. Other derelict sites next to the development would become parking spaces.
On the site would rise a major supermarket with thirty two shop units and some residential units.
The plan also includes the conversion of an old maltings to a craft centre and fourteen apartments.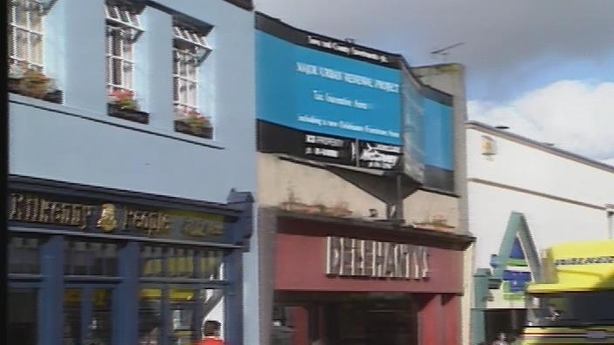 Plans for Kilkenny Shopping Centre
The proposal is now two years old as the first planning application was rejected. The developers then submitted a scaled down proposal which was also turned down. An oral hearing will now decide the fate of the project.
Objections to the scheme largely relate to traffic and access. Some traders in the city believe the development will create major traffic problems. They also claim that the shopping centre is not needed as there are currently vacant shops in the city. However, other traders believe that the new development will draw in more shoppers and footfall for everybody.
An RTÉ News report broadcast on 16 September 1991. The reporter is Michael Ryan.