A theatrical performance from Prague uses black light, movement and music to tell a story.
The Czech Theatre Company uses black curtains on a dark stage and lighting to create optical illusions. The performers use dance, mime, acrobatics and props to create the visual story. The lighting, set and costume allow the performers to appear invisible when necessary. The performance is accompanied by music and is somewhat unconventional for Irish theatre lovers as there is no dialogue.
This performance is based on a dream called 'The Spectacles' where a passenger cannot pay a taxi driver and gives him his glasses instead. The spectacles are then transformed into a bicycle ridden by a long legged lady who gets longer and longer. 'The Spectacles' is part of a series of dreams which the theatre group use to interpret in their own unique way. The dreamer is a taxi driver in the mysterious land of Aod.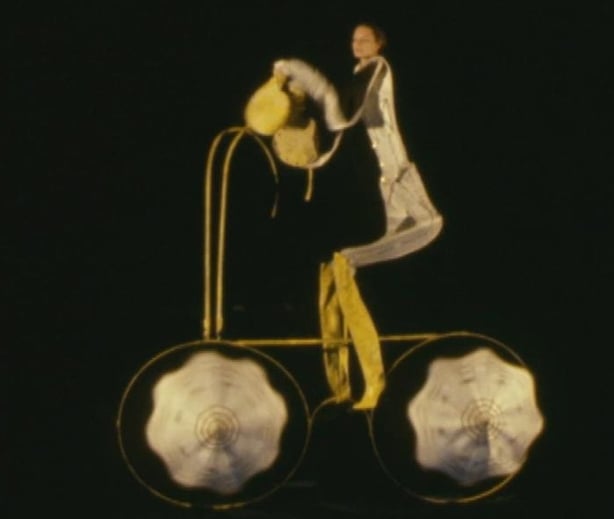 Scene from 'The Spectacles', Black Theatre of Prague (1981)
The performance includes the use of giant spectacles and umbrellas to create the illusion of a bicycle.
This episode of 'Off The Wall' was broadcast on 20 July 1981.
'Off the Wall' was a summer series aimed at young people. The programme was presented by Ultan Guilfoyle, Billy McGrath and Caryl Perry Jones.