As the Dublin Theatre Festival begins a look at who theatre in the city is aimed at.
'First House' examines perceptions of theatre as an exclusive and posh form of entertainment.
We've all heard the accusations that theatre is an art form for certain people and criticism that theatre audiences are exclusive, posh, intellectual and that sort of thing.
Why does a visit to the theatre have a different appeal to a visit to the bingo hall, the cinema or the dog track?
Tom McGurk chats to Dubliners on the streets about what if anything they know about the Dublin Theatre Festival and whether or not they will attend any of the events.
Six people from Ballyfermot who don't usually go to the theatre attend plays during the Dublin Theatre Festival.
They recall their memories of their parents going to the theatre and give their reactions to what they have seen at this year's theatre festival.
When you go to the pictures, you feel like you're with your own people, people like yourself. When you go to the theatre, you're saying should I do this and should I do that.
I think the theatre think they're in a class of their own.
You didn't really go to enjoy yourself. It wasn't a night's entertainment.
Sometimes it's very hard to understand and you have to really think and work it out for yourself.
The three couples Joe and Connie Shannon, Jim and Pat O'Reilly, and Michael McStay and his girlfriend Caroline, all attended the play 'A Borderline Case' by Harry Barton at the Eblana Theatre in Busaras, Dublin. The play featured Gerard McSorley, Anita Reeves and Beryle Fagan, and was directed by Barry Cassin.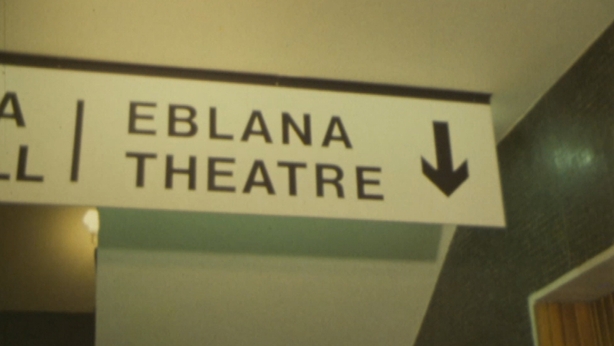 Elbana Theatre located in the basement of Busaras (1975)
While they were not overly impressed by the play, they were surprised that many of those in attendance were working class like themselves.
This episode of 'First House' was broadcast on 6 October 1975. The presenter is Tom McGurk.