The crew of the MV Logos travel the world to share the message of the gospel.
The MV Logos is more than just a ship. The vessel is manned by 142 volunteers from 26 countries bringing the Christian message to every port. During a stay in Dublin, the ship is docked at Sir John Rogerson's Quay,
Along its travels thousands of people will join the crew of the MV Logos taking part in religious services, meetings and conferences to promote the Christian message. The ship also houses the world's largest floating bookshop.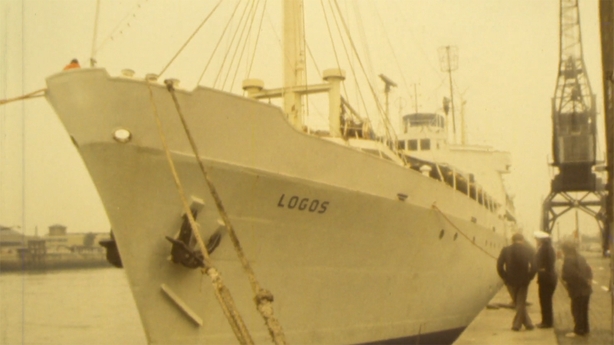 MV Logos
Programme Director of the MV Logo, Peter Conlan, explains the genesis of the ship and the Christian work undertaken by those who sail in her.
It's young people from many nations around the world sharing a faith in God that works from country to country.
The MV Logo also operates a training programme in Christian service for the young volunteers who generally spend a year onboard. Peter Conlan explains that the volunteers while in Dublin will operate a bookshop, attending services, and meeting people throughout the country. The volunteers come from a mix of Christian denominations including Catholic, Protestant and Baptist. The project is financed through the sale of books and as a registered charity, through donations.
The MV Logo weighs 2,300 and for the first 20 years of her life operated as an ordinary cargo and passenger ferry. For the last six years, the MV Logo has been on an evangelical crusade.
An RTÉ News report broadcast on 7 July 1976. The reporter is Derek Davis.