Dublin girl gets royal treatment after being chosen as the National Children's Day princess.
Fourteen year old Karen Senior from Walkinstown in Dublin was chosen from over eight thousand children who entered a competition in The Evening Press to be the National Children's Day Princess.
On the 14 June, a special escort arrived at her Walkinstown home to take her to lead the National Children's Day parade.
Two motorcycle Gardaí led a limousine to the door to pick the princess up.
Karen Senior was accompanied by 10-year-old Karen Morgan from Ballinteer, one of the specially chosen flower girls.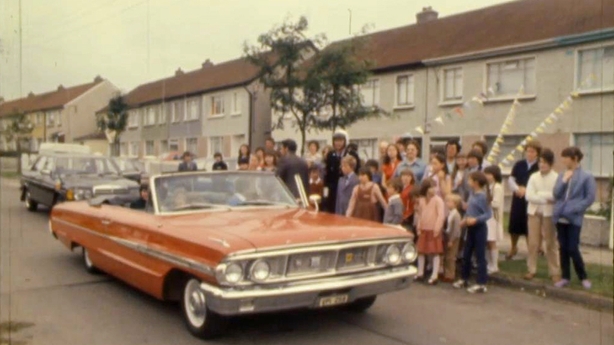 Children's Day Princess, Walkinstown (1981)
On the day of the parade, the Senior family car broke down and so the Lord Mayor's car came to the rescue complete with chauffeur to take Karen's parents and brother to the parade.
Neighbour and locals turned out to wave Karen and her motorcade off. The motorcade made its way to St Stephen's Green where the parade commenced.
An RTÉ News report broadcast on 15 June 1981.