A group of professional stuntmen practice some of their dangerous feats on Dollymount Strand in Dublin.
The space at Dollymount Strand makes it an ideal location to go through some stunt routines and the sandy beach provides for a soft landing.
The group of professional stuntmen have been working at this dangerous job for over two years. They think nothing about falling off a high building, jumping over six people on a motorbike or standing in the middle of an explosion. This is a skilled profession where safety is key and training is paramount.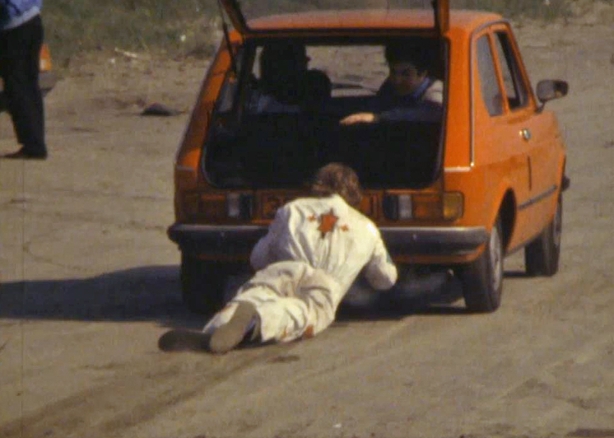 Stuntmen on Dollymount Strand (1981)
The professional stunt team take danger as part of the job. They recognise they could get badly hurt but feel that with care and common sense they can walk away from the most dangerous of stunts unscathed.
These brave men are kept busy having worked on productions like 'Strumpet City', various productions for television and cinema including the latest John Boorman film 'Excalibur' which was made at Ardmore Studios.
Every stunt that appears on our screens is carefully prepared and no matter how reckless it appears, a lot of attention is paid to safety.
It's still exciting and risky, even in training.
One of the stunts the team are practising involves two men who lie underneath a makeshift ramp that a motorcyclist drives over.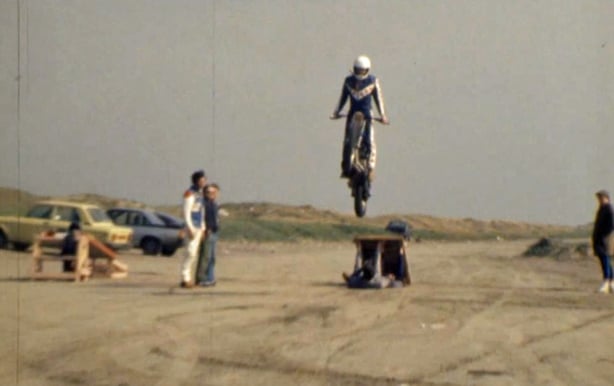 Stuntmen on Dollymount Strand (1981)
An RTÉ News report broadcast on 23 April 1981. The reporter is Andrew Kelly.