The life and work of critic, cultural commentator and short story writer Seán Ó Faoláin.
Seán Ó Faoláin (1900-1991) remembered as a successful writer and critic, and a courageous figure in twentieth century Ireland.
Acclaimed mainly for his mastery of the short story, Seán Ó Faoláin was also an essayist, critic, biographer and travel writer.
Seán Ó Faoláin joined the Irish Volunteers and fought in the War of Independence and the Civil War but said he was never cut out to be a killer.
Seán Ó Faoláin was born in Cork in 1900. After graduating from University College Cork (UCC), he went to live in the United States where he earned a Master's Degree in Philology at Harvard University. He later took on a position teaching creative writing at Princeton University. In 1975, he was honoured with a Doctorate from the National University of Ireland.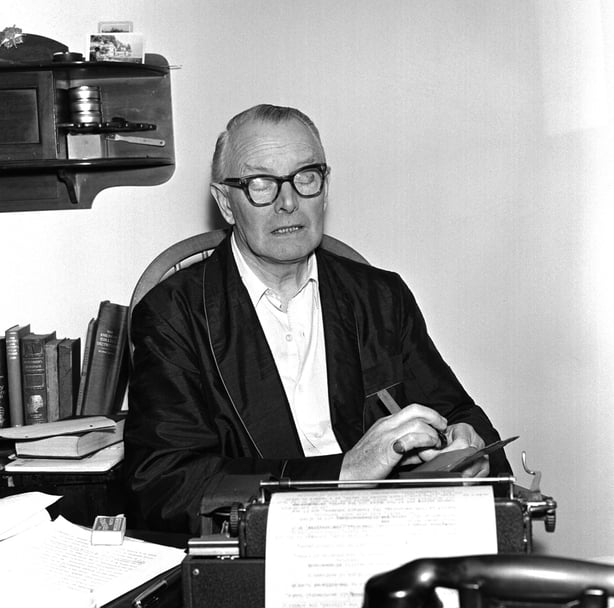 Irish writer Sean O'Faolain (1962)
Returning to Ireland in 1930s, his battle with censorship began when his first collection of short stories 'Midsummer Night Madness and Other Stories' was banned despite receiving acclaim elsewhere. The censors in Ireland claimed it contained sexually suggestive content. His battle with censorship continued through the 1940s when he was editor of The Bell, the purpose of which he says was to shock the bourgeoisie and the begrudgers of a full life.
Writer James Plunkett believes that Seán Ó Faoláin made his mark both in Ireland and internationally.
Seán O'Faoláin's own description of a well-written shorty story reads,
A child's kite, a small wonder, a brief, bright moment.
Seán Ó Faoláin died on 20 April 1991.
An RTÉ News report broadcast on 20 April 1991. The reporter is Emer O'Kelly.