Plans for a monument chosen to commemorate the battle at Kilmichael in Cork during the War of Independence are revealed.
Out of 31 entries, the design submitted by Terry McCarthy of the Cork based monumental stone cutters McCarthy and Sons is selected for the memorial to commemorate the Kilmichael ambush of 1920.
The memorial is being erected from money donated by the public. The collection had reached the total of £4,800 and the closing date for donations is the end of March 1966.
Some of those who took part in the Kilmichael Ambush of 1920, including General Tom Barry, return to the ambush site for a prize giving ceremony for the best design. Terry McCarthy is presented with a cheque for 100 guineas.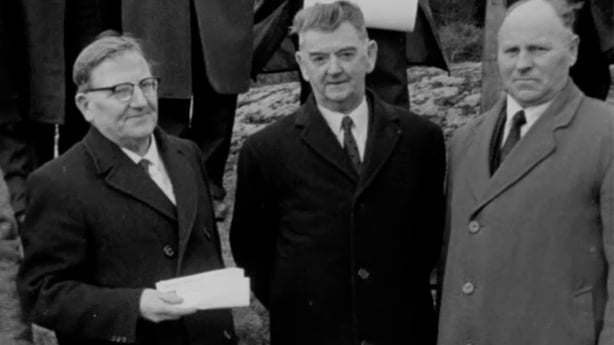 This report shows an artist's impression of the proposed monument which is a combination of contemporary and Celtic design. The finished memorial is due to be unveiled in July 1966.
An RTÉ News report broadcast on 6 March 1966. The footage shown here is mute.