Performance and audience participation part of 'The Rocky Horror Picture Show' at the Classic Cinema Dublin.
Dubliners Michael O'Brien and Shay Sealy have performed in full costume about two hundred times at screenings of 'The Rocky Horror Picture Show'.
A night out to remember for a very long time.
Michael O'Brien first heard about the film from Albert Kelly the manager of the Classic Cinema in Harold's Cross. Albert Kelly was a customer at the petrol station where Michael O'Brien was working at the time. After seeing a report about it on RTÉ programme 'That's Hollywood' he decided to attend and has been going ever since. He told his friend Shay Sealy about it and now the two are at the show every Friday night. The two friends dress in full makeup and costumes acting out scenes from the film as it is projected onto the cinema screen.
Michael O'Brien who performs the role of 'Frank N Furter', explains what the film is about. Two all-American kids who have just got engaged and how they are kidnapped by a transvestite doctor in an old castle.
For Shay Sealy, who takes on the role of Riff Raff, the whole performance is a lot of fun.
We get a lot of fun out of it. We get a great kick out of people clapping for what we do.
Michael O'Brien says that while the audience enjoy the show, his parents do not see the attraction.
By day, Michael O'Brien is a trainee draughtsman at ANCO in Tallaght and is studying Environmental Engineering by night at Bolton Street College. While he enjoys the performance every Friday, some of his workmates are not so enthusiastic about the prospect of dressing up in "that gear". Michael believes everyone likes to dress up at some time.
I think everybody likes to dress up some time or other.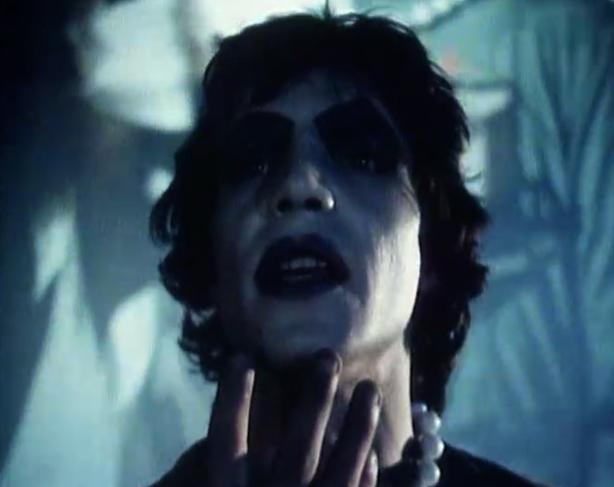 Michael as Frank N Furter during a performance of The Rocky Horror Picture Show (1985)
Michael and Shay pay tribute to Albert Kelly for his efforts to promote the show and encourage the audience to participate in the performance.
Shay Sealy is a bus conductor but has only told one of his workmates about what he gets up to every Friday night.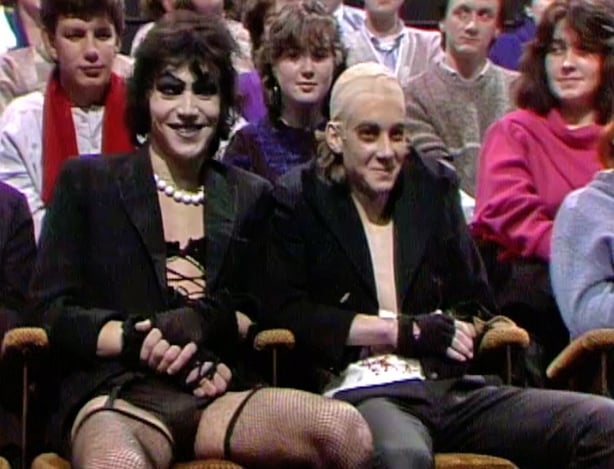 Michael and Shay in the audience at TV Gaga (1985)
Following the report, Michael and Shay join the audience of TV Gaga in the RTÉ studios where they discuss their plans to give up performing soon.
We've got a whole cinema full of apprentices.
'The Rocky Horror Picture Show' film was made in 1975 and was written by Richard O'Brien.
This episode of 'TV Gaga' was broadcast on 5 December 1985. The presenter is Barbara Lee.