For a Late Late Show dedicated to the Defence Forces, Gay Byrne arrives in an armoured car used by Michael Collins.
Sliabh na mBan has a special place in Irish history as it was this car that formed part of the convoy lead by Michael Collins which was ambushed on 22 August 1922. The ambush resulted in the death of Michael Collins.
I'm particularly pleased and honoured to be arriving at the studio tonight in Sliabh na mBan, the 1920 Rolls Royce armoured car in which Michael Collins journeyed to Beal na Blath in August 1922.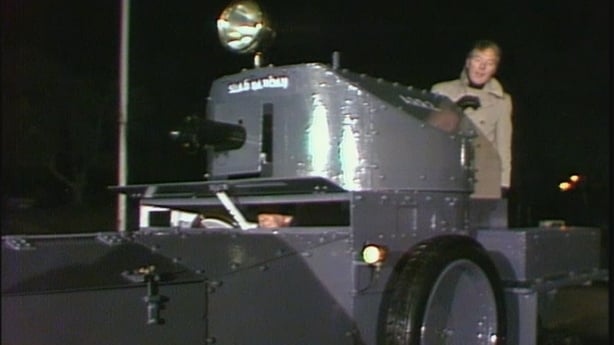 Gay Byrne on Sliabh na mBan (1980)
Sliabh na mBan has been restored and cared for at the Curragh in County Kildare.
This episode of The Late Late Show is dedicated to the armed services, army, navy and air force. The show, opens with music from the Number 1 Army Band.
This episode of The Late Late Show was broadcast on 8 November 1980. The presenter is Gay Byrne.