New Zealand rugby players visit Donegal, to honour Dave Gallaher the first captain of the All Blacks who was born in Ramelton.
As part of the All Blacks centenary celebrations, six members of the New Zealand national rugby union team make the trip to Donegal to honour the first-ever All Black captain Dave Gallaher, who was born in Ramelton. Dave Gallaher captained the legendary New Zealand 1905 touring side.
All Black back-rower Jerry Collins cracks open a bottle of champagne to officially name Letterkenny Rugby Football Club's home ground the Dave Gallagher Memorial Park.
The All Blacks know how important he is in terms of shaping our history, so it's great to come back and see where he came from and where it all started.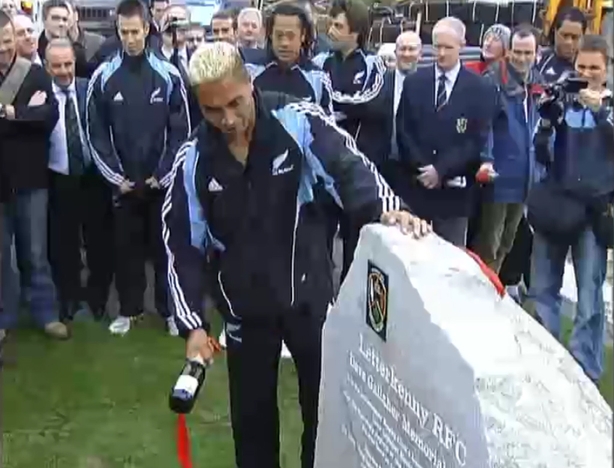 The All Blacks make an appearance at Letterkenny Institute of Technology where thousands of fans are gathered to greet the team. Captain of the All Blacks Tana Umaga, speaks of the controversial spear tackle he made on Brian O'Driscoll during the Lion's Rugby tour of New Zealand in the summer of 2005.
Things happen in the game of rugby, obviously this one's gone on longer than any I've ever heard of, that's just the way it is.
For many, the highlight of the All Blacks trip to Donegal is the visit to the house where Dave Gallagher was born in Ramelton. The people of his home town give the All Blacks a tremendous welcome which particularly impresses wing Joe Rokocoko,
It's awesome.
An RTÉ News report broadcast on 9 November 2005. The reporter is Eileen Magnier.