Scott medals are awarded to members of An Garda Síochána at a ceremony in Templemore.
Minister for Justice Michael Noonan presents the Scott Medal for acts of bravery to ten members of An Garda Síochána at the Garda Training Centre in Templemore, County Tipperary.
Before the medals are presented, the Garda Commissioner Lawrence Wren gives some context to the award,
This is something that is with the force now almost since its inception, since 1923.
In 1923, Colonel Walter Scott, an Honorary Commissioner of the New York City Police and philanthropist presented the fledgling An Garda Síochána with a one thousand dollar gold bond, the interest from which would pay for a gold medal in perpetuity.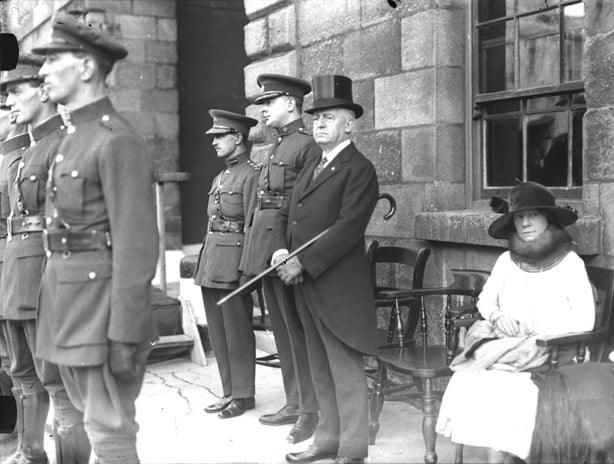 Colonel Walter Scott with the Free State Army and Garda Síochána, 1920s
Garda John Donohoe and Garda Aiden Boyle of the Special Task Force at Harcourt Square in Dublin are presented with silver medals for their role in tackling two armed men outside the post office in North Strand, Dublin in 1981.
Sergeant Gerry O'Brien of Bailieboro Garda Station is awarded the silver Scott Medal for tackling two men involved in the robbery of a lorry in Dundalk in 1983.
Three Tallaght Gardaí who came under fire as they chased an armed kidnap gang into the Phoenix Park in 1984 are also awarded medals. Garda Athony Tighe receives a silver medal and Sergeant Declan O'Brien and Garda Patrick Kavanagh both are awarded bronze.
Bronze medals are also presented to Garda Edward O'Connor for bravery in 1983 and to Sergeant John Mullarkey and Hank Scanlon for exceptional courage in the same year.
Citations of details of these three awards are not issued to preclude anyone liable to criminal proceedings alleging detriment to such issue. The citations will be issued and published as soon as possible.
The Walter Scott Medal for valour is a medal in the form of a Celtic cross. The first Scott Medal was presented in 1924.
An RTÉ News report broadcast on the 24 October 1985.