Bob Geldof talks about his work for Band Aid and Live Aid, the money raised and his musical plans for the future.
In July 1985, concerts took place simultaneously in London and Philadelphia to raise funds for famine relief in Africa. The event was called 'Live Aid' and it was organised by Dubliner and Boomtown Rats frontman Bob Geldof.
The Irish people donated over seven million pounds to the Live Aid fund, which is part of the Band Aid project.
Bob joins Gay Byrne on the Late Late Show to talk about Live Aid and the impact it has had and will continue to have on his life.
Bob talks about his ongoing work with Live Aid and how the funds will be distributed to those most in need. It is only when this job is complete that Bob will return to his first love music. Bob wants to make sure that every penny that was donated gets to the people in need. As such, he refuses to take a salary for his work for famine relief despite being broke.
If you gave a pound, you gave a pound because you wanted to help someone.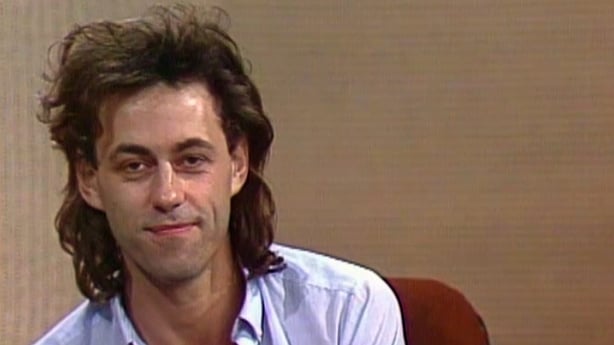 Bob Geldof on The Late Late Show on 20 September 1985
He puts the current state of his personal finances down to a "professional cockup".
This episode of The Late Late Show was broadcast on 20 September 1985. The presenter is Gay Byrne.