Breakfast in the Pearse house on the morning of the Easter Rising according to comedy troupe 'That Crowd'.
'That Crowd' put their comedy spin on one family's interpretation of the events of the Easter Rising on Easter Sunday 1916.
That Crowd's version of perhaps what could have happened on Easter morn 1916.
A mother, father and son seated around the kitchen table debate the merits of the Rising. The mother advises her son who speaks of summoning people to the flag to fight for freedom at the GPO in Dublin.
Get yourself a decent job instead of hanging around the GPO with those corner boys.
As he declares his departure to fight for his country, the young man's mother asks if he will be home for his dinner.
A glimpse of history as seen to through the eyes of our young actors and actresses called 'That Crowd'.
This episode of The Late Late Show was broadcast on 25 May 1985. The presenter is Gay Byrne.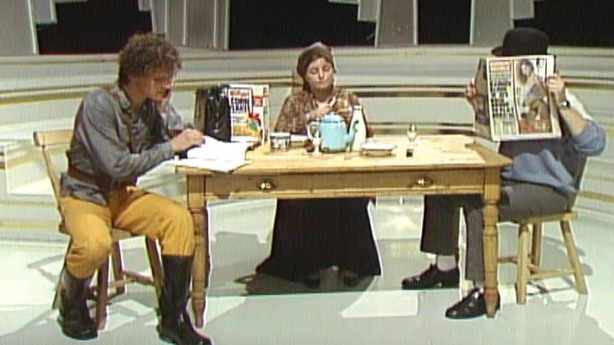 That Crowd on The Late Late Show in 1985
'That Crowd' members featured include Peter Gowan (as the son), Miriam Kelly (as the mother) and Vincent McCabe (as the father).