The Irish final of the television series The Superstars takes place at University College Galway.
The competitors from different sporting disciplines compete against each other in ten events. staged. The nine contestants, each a sporting hero in his own right, will be out of their comfort zone competing in eight different disciplines.
The winner will represent Ireland at the World Superstars in Cyprus competing against seven top international sports stars.
The competitors are defending champion and Irish decathlete Brendan Curtin, Kerry football midfielder Jack O'Shea, inter-provincial rugby star for Connacht Brendan Moran, canoeist Alan Bates, Limerick's hurling full back Leonard Enright, Irish basketball International Tommy Hickey, Defence Forces captain and canoeist Dave Collins, Donegal footballer Brendan Dunleavy, and Aongus O'Donoghue, a multi-medallist from Glenflesk, in Kerry is the youngest competitor at 22 years of age.
Only one will be crowned Superstars Champion of Ireland.
Dave Collins, Brendan Moran, Alan Bates and Brendan Curtin compete in the squats and chin-ups section of the gym tests, where Alan Bates is just one squat shy of beating the squats record and completes an impressive forty eight chin-ups.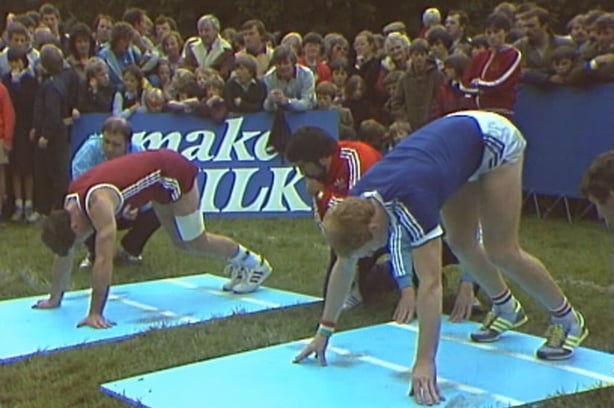 Brendan Moran and Dave Collins at the start of the squats test (1985)
Diagnosed with diabetes in 1978, Alan Bates talks to presenter Jimmy Magee about how he does not let his condition hold him back. Having learned how to manage it ho offers these words of encouragement for anyone with diabetes,
It's not a disease, they can control it, they can do what I can do.
This episode of 'Superstars Irish Final' was broadcast on 2 February 1985. The presenters and commentators are Jimmy Magee and Michael Lyster. It was produced in association with the National Dairy Council.
'Superstars' was a series where sportspeople from different disciplines competed against one another in a variety of events.