Freezing weather brings potential legal issues, water shortages and public attention for one unfortunate man who slips on an icy Dublin footpath.
Dublin City Council set about clearing and gritting roads and pavements with the help of private contractors. The supply of salt for gritting should last until next week.
There are suggestions that the icy weather could produce a rise in personal injury claims. Liam Moloney, a personal injury lawyer outlines how an individual might be in a position to sue a local authority.
It is incumbent upon the local authority to warn motorists if they haven't been able to completely grit roads and footpaths.
Residents have also expressed concerns that they may be liable if someone falls where they have cleared footpaths or driveways. John Walsh of Woodlawn Residents' Association says that in helping themselves to stay safe many residents may have been backed into a corner legally.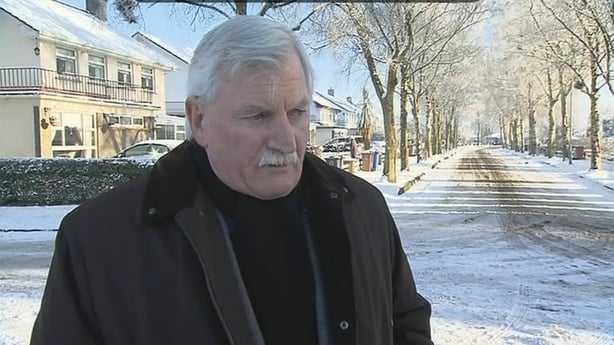 John Walsh of Woodlawn Residents' Association
In America, you can be sued if you do not clear ice and snow from in front of your residence. In Ireland, if a resident clears the snow and ice from in front of their home, they could potentially be sued if someone slips and injures themselves.
The poor weather has also caused burst water mains resulting in critical shortages of water. Dublin City Council and Fingal County Council have warned that water supplies may have to be cut off during off peak periods in order to preserve supplies.
An RTÉ News report broadcast on 8 January 2010. The reporter is John Kilraine.