Construction on an incinerator for Dublin begins at Poolbeg despite opposition to the project.
The Poolbeg incinerator is opposed by all local political representatives who believe the six hundred thousand tonne capacity is too big.
Labour Councillor Kevin Humphreys says that all independent surveys have shown that the city does not need such a large incinerator and that the maximum required for the greater Dublin area is three hundred thousand tonnes.
Despite the opposition, works on the plant have begun and are due for completion in three years' time.
The incinerator will be the size of Croke Park.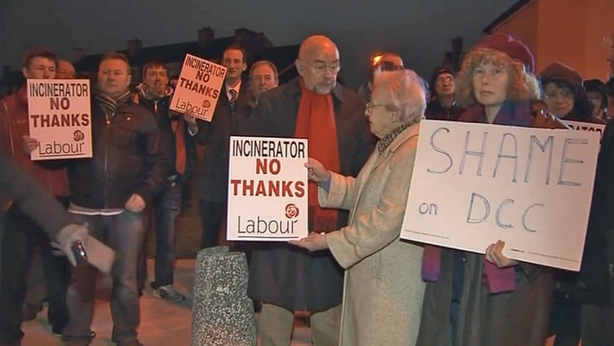 Protesters over the Poolbeg incinerator
Officials from Dublin City Council (DCC) deny that the facility will be too big to be economically viable. Elizabeth Arnett of Dublin City Council defends the project saying that it is being built in the context of a high recycling, low landfill, and integrated waste management system.
The incinerator is also opposed by private waste operators who claim the council is in breach of planning conditions. Brendan Keane of the Irish Waste Management Association says that works on the site began before today without a commencement notice. DCC says that it has complied with all preconstruction conditions.
An RTÉ News report broadcast on 14 December 2009. The reporter is John Kilraine.