In October 1965 hundreds of protesters marched from Pearse Street to City Hall in Dublin in protest at planned industrial development on Sandymount Strand.
The march was organised by the Sandymount-Merrion Residents' Association. At City Hall a petition was handed to the Lord Mayor of Dublin, Eugene Timmons.
The plans for the site include the filling in of a section of the beach between Poolbeg Lighthouse and Merrion with the reclaimed land being used for industrial development.
The Dublin Port and Dock's Authority now proposes
To take a large slice of this beach from the Martello Tower to the Poolbeg Lighthouse... cover it with a layer of refuse 10 feet deep, top it off with builder's rubble, and build factories on it.
The Port and Docks Authority argue that the development is essential for the future prosperity of the country. However, the residents of Sandymount are not convinced. Spokesman for the Sandymount-Merrion Residents' Association Jack Torpey argues their case in opposition to the plans.
We of this association are not against industrial development. We are against it here. We think it's mad, daft, absolutely silly, to put an industrial development of forty seven factories on Sandymount Strand.
The Residents want the area to be declared an amenity area and an asset to the city of Dublin.
This episode of Sixty Five was broadcast on 11 November 1965.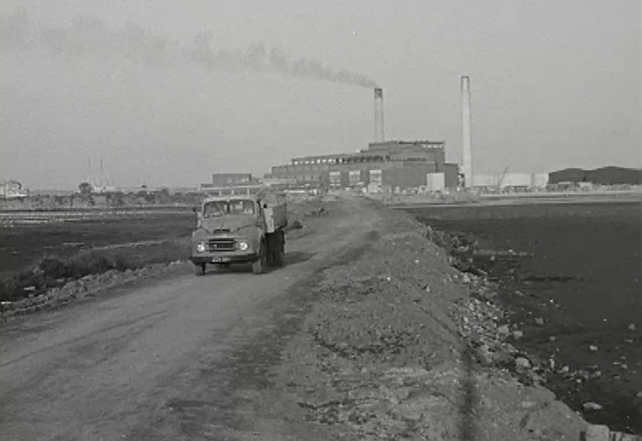 Ringsend - Poolbeg (1965)