Protests outside Leinster House turn ugly as Anti-Apartheid demonstrators continue to demonstrate at Springbok visit
In 1970 at the height of Apartheid control in South Africa, the Springboks played Ireland at Lansdowne Road.
The South African rugby tour of Ireland and Britain throughout 1969 and 1970 resulted in protests and demonstrations across Dublin and at Lansdowne Road at the match on 10 January 1970.
On the day before the match protesters took to the streets of Dublin in a protest outside Leinster House, where members of the team were visiting as part of the tour. The anti-apartheid demonstrators clashed with Gardaí as members of the team left Leinster House. The Springboks were invited to Leinster House as guests of Fine Gael TD Dr. Hugh Byrne. In this footage demonstrators can be seen holding up a sign saying
Resist the Racist Oppressor.
The Irish Anti-Apartheid Movement organised protests throughout the All-White South African teams' stay in Ireland demonstrating their opposition to the apartheid system in South Africa.
This footage was broadcast as part of an RTÉ News report on 9 January 1970.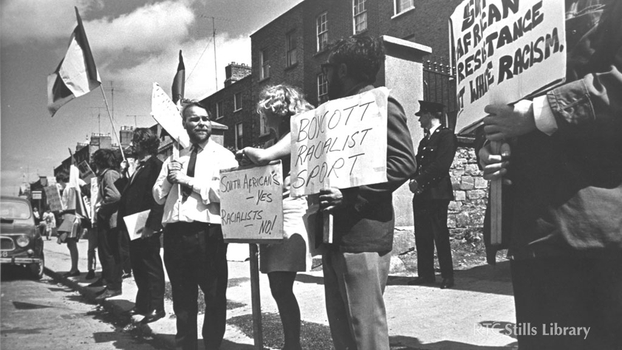 Anti-apartheid demonstration in Rathmines, Dublin at a Ireland V's South Africa cricket match (1969)