President Julius Nyerere of Tanzania on a state visit to Ireland talks about democracy in Africa.
Tanzanian President Julius Nyerere flew into Dublin Airport from Cuba, where he had been attending a summit conference of non-aligned states.
Born in 1922 Julius Nyerere trained as a teacher in Uganda, and graduated from Edinburgh University with a Master's degree in history and economics. As a member of the Tanganyika African National Union he was the first Prime Minister of independent Tanganyika from 1961 – 1962 and served as its President from 1963 – 1964. In that year Tanganyika united with Zanzibar, officially becoming Tanzania, and Nyerere served as its Prime Minister until 1985.
Next he will travel to London, where talks are talking place to resolve the political crisis in Zimbabwe which has been dragging on since the country declared its independence from the UK in November 1965.
He talks about the necessity for democratic elections in Zimbabwe, supervised by non-partisan officials, to achieve a truly independent Zimbabwe. A transfer of power will happen when the right conditions are in place, and not before then.
Whatever government is elected by the people of Zimbabwe, that government will be the government which will control the army.
Tanzania's recent war with Uganda, in which resulted in the overthrow of Ugandan dictator Idi Amin, cost Nyerere not only military casualties but also a slowdown in the country's economic progress. In spite of this the fight will be maintained.
We cannot accept continued colonialism in Africa, we cannot accept minority rule, it's simply not possible. We shall fight...whatever it costs us.
As a long-time opponent of the South African apartheid regime, it is preposterous to select players based on the colour of their skin, says President Nyerere,
You select a team on merit...you don't mix it to get in order to get an entry into Ireland.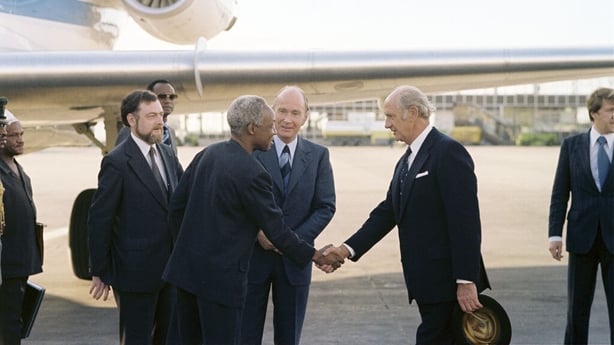 President Nyerere is greeted by An Taoiseach Jack Lynch, Dublin Airport (1979)
This interview was broadcast as part of 'Newsnight' on 12 September 1979. The reporter is Andy O'Mahony.
'Newsnight' was a late night current affairs programme broadcast on RTÉ 2.