Mormon genealogists research church records in Mayo and Galway to make them accessible on microfilm.
Saint Brendan's Church in Corrandulla, County Galway, like so many churches of every denomination all over Ireland, houses detailed genealogical information in the form of baptism and marriage registers.
In recent years requests by the Irish diaspora about their ancestors have been arriving through the letterboxes of clergymen, who are the custodians of these documents.
Father PV O'Brien finds an increasing amount of his time is given over to thumbing through the old leather bound volumes in his care and says that they are,
A tremendous source of information for people who want to know their roots.
The church building itself dates from around 1830, and records in Corrandulla include those from the famine times. Fr O'Brien finds it remarkable that people in the parish had the wherewithal to keep records at all during those dark times,
You can see how few they were for those years, but they did keep the records.
In the future, those records will be accessible and more easily retrievable, thanks to a small team of Mormon genealogists who have been microfilming parish records belonging to the western diocese.
They will be stored in the Granite Mountain Records Vault in Utah, and people who wish to trace their family trees will be able to research them at a dedicated genealogical library run by the Mormons in Salt Lake City.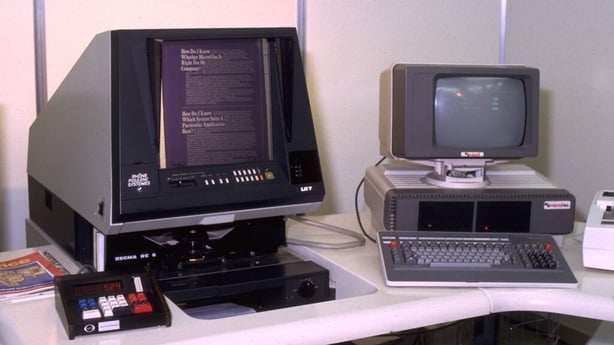 Microfilm viewers (1985)
Mr and Mrs Harold Salway of the Genealogical Society of Utah, an arm of The Church of Jesus Christ of the Latter Day Saints, have currently microfilmed records in the Tuam, Clonfert and Achonry dioceses, with Kilalla almost complete. Next on their agenda are the register books for the dioceses of Ardagh and Clonmacnoise.
Harold Salway disputes the claim of blanket retrospective conversion of deceased persons to the Mormon faith. He believes that as in their earthly life, people have free choice in the next one,
We don't know whether they've accepted or not, so we're acting in faith, and we provide the ordinance in proxy.
When the work of the Mormons in the west is done, the microfilmed records will be taken to Salt Lake City, archived and placed in long term storage. Each diocese will receive a copy of the microfilmed records free of charge. Irish people will be able to request photocopies of their ancestors' records from the Mormon Genealogical Library, also without charge.
Parish priest of Knock Monsignor James Horan who receives large numbers of genealogical requests from overseas believes that the microfilmed records will be a very valuable resource for researchers, historians and genealogists.
He would like to see Irish church records housed in a central archive, where the public could access them,
A computerised system I think would work miracles.
An RTÉ News report broadcast on 29 June 1984. The reporter is Jim Fahy.
This report contains footage which is not RTÉ copyright.