An All Ireland Final in New York, using a ladder to see a game in Limerick and regrets that television was not around for some GAA greats.
Michael O'Hehir remembers some of his favourite GAA moments from his long and distinguished career as a broadcaster and sports commentator with RTÉ.
The voice of Michael O'Hehir has been linked with GAA (Gaelic Athletic Association) games for the last forty six years. 1984 is the GAA's centenary year and to mark this, as well as paying tribute to O'Hehir, a new radio documentary series will be broadcast on RTÉ Radio.
Sports fans will enjoy the recollections of the man who, with his distinctive voice and style of commentating, brought the excitement and tension of Gaelic football and hurling matches played all over Ireland and abroad, to their homes via the radio.
O'Hehir tells RTÉ News reporter Mícheál Ó Briain that his profession became
A labour of love, if you like.
He recalls the 1947 All-Ireland Final in the Polo Grounds in New York City between Cavan and Kerry, when he was the link to people at home in Ireland,
The relay from America to Ireland, this was something wonderful in those days.
His only regret is that television didn't come sooner, as generations of people missed out on seeing legendary hurlers such as Lory Meagher and Christy Ring on the playing field,
If they had been able to see them in action, in their prime...they would have really have had a privilege of seeing something really great.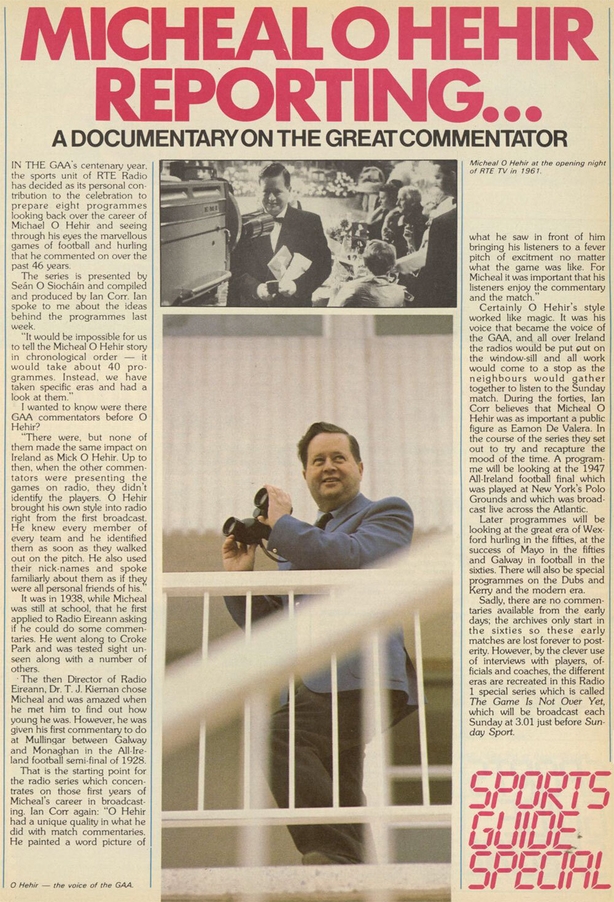 RTÉ Guide article from 29 June 1984
An RTÉ News report broadcast on 27 June 1984. The reporter is Mícheál Ó Briain.