Armed farmers on search and kill patrols to protect sheep from packs of marauding dogs.
Sheep worrying has long been a problem near big centres of population. Farmers in the Glencullen area, just ten miles from Dublin, are on high alert for a pack of dogs which have killed or injured sheep and lambs in the past seven days.
Frank Maguire lost five breeding ewes and sixteen lambs in a recent attack he was horrified by what he saw,
I found it like a battlefield, with bodies of lambs and sheep everywhere.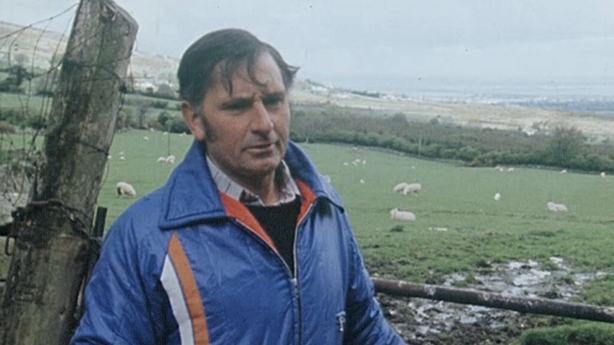 Frank Maguire, Glencullen (1979)
The dogs had also chased sheep out of the field, and separated lambs from their mothers. Frank spent the day dealing with the aftermath and moving the flock elsewhere, as he knew the dogs would strike again.
A survey of the losses of 25 sheep farmers in the Wicklow Dublin area over the past winter has just been completed by the Manor Kilbride Irish Farmers' Association (IFA) branch. Over the past six months 336 sheep were killed and 125 were injured. According to local IFA chairman Seán Eustace,
We would value the loss to the farmers, their families and the area at about £57,000, or £2,300 per man.
The numbers however do not fully show the knock-on effects of dog attacks, such as ewes losing lambs, difficulties related to lambing, and in the longer term, there will be sheep that never recover from an attack, and therefore never thrive.
Eustace believes that the problem can be dealt with through a combination of enforcement of dog licensing laws, employment of dog wardens and creation of dog shelters. Unwanted litters of pups can be prevented when dog owners are encouraged to sterilise their pets.
Even if the government and local authorities made concrete plans to curb the problem of dog attacks immediately, Frank Maguire is living with the worry that his livelihood is under threat,
We have been in sheep for generations and I intend to stay in them as long as I can but I am afraid. If attacks like this is going to happen in the future then I'm afraid I'll have to get out.
'Landmark' was RTÉ Television's agricultural affairs programme which ran from 1971 to 1988.
This episode of 'Landmark' was broadcast on 29 May 1979. The reporter is Kieran Kissane.