The Cork village of Glounthaune and its residents are the stars for this edition of Hall's Pictorial Weekly.
Children play, ducks are fed, and someone is getting new furniture in Glounthaune, County Cork in this episode of 'Hall's Pictorial Weekly' .
In Irish An Gleanntán, the village is situated seven kilometres to the east of Cork city, at a sea wall on the River Lee estuary.
In 1810 the local landowners, the Falkiner family of Annmount, planned and laid out this village, which was originally to be called New Glanmire.
A National School was opened in the 1830s and the Sacred Heart Church, designed by George Coppinger Ashlin, was built circa 1880, replacing a chapel which had been in the village since 1803.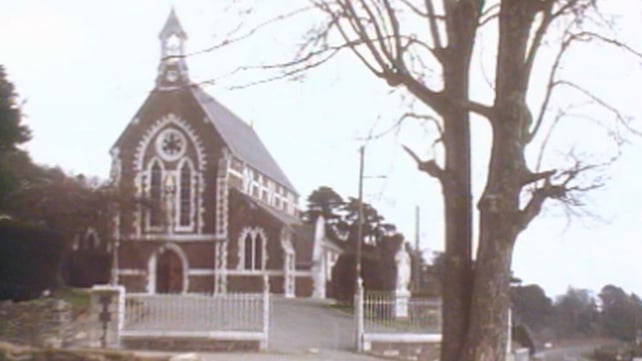 Sacred Heart Church, Glounthaune (1979)
Once a week, from June to September, the 'Hall's Pictorial Weekly' film crew would arrive at a town or village in any county in Ireland. They would film the people and the place and return to RTÉ where the footage was edited and put to music.
This short film of around one minute's duration formed part of the opening sequence for that week's episode. But no-one knew which location had been chosen, and it was not advertised as part of the programme billings in the RTÉ Guide or newspapers.
So with this in mind people the length and breadth of the country tuned in religiously, in case it was the turn of their town or village to have its few minutes of fame.
This episode of 'Hall's Pictorial Weekly' was broadcast on 11 April 1979.